© Borgis - New Medicine 1/2011, s. 19-21
*Ewa Ogłodek, Aleksander Araszkiewicz
Stress as a mechanism of intermediary function in the onset of illness
Department of Clinical Psychiatry of the Nicolaus Copernicus University in Toruń, Collegium Medicum in Bydgoszcz
Head of Department: Aleksander Araszkiewicz
Summary
Living in the social milieu is a constant exposure to psycho-social stimuli, influencing an individual, and making it difficult to meet its substantial needs. It results from the differences between the requirements of the milieu and the abilities of a given individual to meet them. The force of impact of psycho-social factors depends on their significance for the person and the intensiveness and duration of stimuli. With substantial intensiveness and duration of the influence of stimuli, disturbing mechanisms (physiological, emotional and behavioral) may occur. It contributes to the manifestation of symptoms of an illness – the faulty physiological and psychological functioning of an individual. Prolonged prodromal symptoms turn, as time passes, into the illness picture - inefficiency and/or limiting individual's functioning due to psychosomatic disorders. Frequent experience of stress as well as activation of physiological mechanisms of the organism's reaction to stress, facilitates development of medical problems. There exists no unambiguous answer to the question, what determines which organs will be subject to the impact of distress.
Stress resulting from the pace of life, lack of stable family life or work qualities may increase the risk of cardiovascular diseases. The main representative of this group of medical problems is the ischemic heart disease, called coronary disease. In spite of a downward trend in mortality, number of its victims still makes it one of the major causes of death in Poland. The disease affects arteries, transporting blood to the cardiac muscle. It has, most frequently, three stages: angina pectoris, heart attack and sudden coronary death (1, 2, 3). Shemesh E et al. emphasize in their research an important connection between stress and cardiovascular diseases. They point out that a psycho-social stimuli increase the activity of the neuro-vegetative system, which results in elevated blood pressure and heart rate, ventricular fibrillation and lowered perfusion of heart muscle (4). Prolonged stress exacerbates the above-mentioned symptoms, accelerating the process of formation of an atherosclerotic plate and degenerative changes of the blood vessels of the cardiac muscle. In her research, Alonzo AA found out that frequent experience of stress in the working environment is a factor, increasing the risk of developing cardiovascular diseases (5). Banou E et al. showed that both daily duties, experienced life events and traumatic situations, contribute to the development of an illness (6). Many researchers emphasize that stress also contributes to the development of exacerbation of already started disease. Research conducted by Morrill EF et al. showed that traumas and traumatic experiences from childhood may constitute risk factors for coronary disease in adult life (7). In turn, another researcher, emphasizes that individuals more susceptible to heart diseases are those who have experienced a traumatic event/trauma, but choose not to talk about that and avoid expressing relevant emotions. Dobkin PL points up that having experienced a traumatic event may contribute to the increase in mortality of victims due to cardiovascular diseases (8).
Psycho-physiological Sternbach model emphasizes the importance of prolonged stress for a given organ. It finally results in the dysfunction and pathology of those organs. Sternbach psycho-physiological model draws our attention to three main predisposing elements, i.e.: response stereotypy (individual's tendency to display similar patterns of psycho-physiological reacting to many different stress stimuli), frequent activation of psycho-physiological stress reaction and failure of homeostatic mechanisms (9, 10, 11).
The figure 1 shows that biological and environmental factors determine the risk factors in the aetiopathogenesis of diseases. As far as biological factors are concerned, one may refer to widely-studied ischemic heart disease, in case of which medicine differentiates the following known risk factors: elevated cholesterol level, arterial hypertension and insufficient physical activity. In turn, "contributing personality" in terms of illnesses development was popularized in the form of personality patterns: A, C and D (12, 13).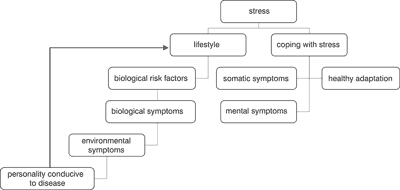 Fig 1. Model of the risk factor interaction and processes of intermediary function for health.

Powyżej zamieściliśmy fragment artykułu, do którego możesz uzyskać pełny dostęp.
Płatny dostęp tylko do jednego, POWYŻSZEGO artykułu w Czytelni Medycznej

(uzyskany kod musi być wprowadzony na stronie artykułu, do którego został wykupiony)
---
Płatny dostęp do wszystkich zasobów Czytelni Medycznej