© Borgis - Postępy Nauk Medycznych 4/2013, s. 316-325
*Michał Wąsowski, Ewa Marcinowska-Suchowierska
Otyłość a nowotwory
The link between obesity and cancer
Internal, Family Medicine and Metabolic Bone Disease Department, Medical Centre of Postgraduate Education, Warsaw
Head of Department: prof. Ewa Marcinowska-Suchowierska, MD, PhD
Streszczenie
Szereg badań klinicznych i epidemiologicznych pokazuje związek pomiędzy otyłością a nowotworami jelita grubego, rakiem piersi, endometrium, rakiem nerki czy przełyku. Dane te, jak i rosnące rozpowszechnienie otyłości sugerują, że przyrost wagi może być jednym z ważniejszych modyfikowalnych czynników wpływających na występowanie nowotworów (1).
Część powiązań pomiędzy otyłością i częstszym występowaniem niektórych typów nowotworów w tej grupie chorych może być wyjaśniona poprzez pewne zmiany funkcjonalne lub wpływ hormonów związanych z otyłością. Ważną rolę w procesie kancerogenezy odgrywają omówione w poniższym tekście mechanizmy biologiczne.
Zdecydowana większość danych sugeruje, że kombinacja czynników wydzielanych przez adipocyty (m.in. wzrost stężenia leptyny, obniżone stężenie adiponektyny i wzrost wydzielania cytokin zapalnych) oraz wpływ wtórnych do otyłości hiperinsulinemii i hiperlipidemii prowadzą do wzrostu zachorowań na raka (2).
Summary
Clinical and epidemiological prospective studies show a significant association between obesity and several cancers e.g. cancers of the colon, female breast (postmenopausal), endometrium, kidney (renal cell), and esophagus (adenocarcinoma). These data, and the year by year rising, worldwide trend in obesity, suggest that weight gain may be the largest avoidable cause of cancer in nonsmokers (1).
Although some of these associations can be explained by changes in the constitution of the human body or hormones associated with obesity, there are increases in a large variety of tumor types, suggesting that fundamental biological mechanisms may underlie these links.
The overwhelming majority of the data suggests that a combination of factors secreted by the adipocyte (increased leptin, decreased adiponectin and increased inflammatory cytokine secretion) with contributions from the secondary effects of obesity (such as hyperinsulinaemia and hyperlipidemia) lead to increased incidence of cancer (2).
OBESITY AND CANCER
Human simple obesity is defined as an imbalance of elevated caloric intake and a relative lack of physical activity. Increased mass of the adipose tissue is associated with metabolic changes described as metabolic syndrome – characterized by abdominal obesity, reduced high-density lipoprotein (HDL) cholesterol levels, increased levels of triglycerides, hypertension and insulin resistance.
A relationship between excess body weight and mortality from all causes and from cardiovascular disease has been well-established in epidemiological studies (3-9).
The adverse metabolic effects of excess body fat are known to accelerate atherogenesis and increase the risk of coronary heart disease, stroke, and early death. Obesity could also influence the growth of cancers. The relationship between obesity and cancer risk has received less attention than its cardiovascular effects. Overweight women have increased risk of endometrial cancer and breast cancer after menopause (due to increased levels of circulating estrogen). Large prospective studies show a significant association between obesity and several cancers. Obesity can play a prominent role in the incidence and progression of cancers (1).
The International Agency for Research on Cancer (IARC) in 2002 concluded that there is sufficient evidence in humans for a cancer-preventive effect of weight gain avoidance (10). Accumulating data suggests that increased adiposity may increase incidence and/or death rates from a wide variety of human cancers, including colon and rectum, esophagus (adenocarcinoma), kidney (renal cell carcinoma), pancreas, gallbladder, ovary, cervix, female breast (postmenopausal), liver, prostate, and certain hematopoietic cancers (tab. 1). With regard to premenopausal breast cancer, the report concluded that available evidence on the weight gain avoidance has no benefit as a cancer-preventive factor. These data, and the rising worldwide trend in obesity, suggest that overeating may be the largest avoidable cause of cancer in nonsmokers. Few obese people are successful in long-term weight reduction, and thus there is little direct evidence regarding the impact of weight reduction on cancer risk.
For all other sites, IARC characterized the evidence for a cancer preventive effect of avoidance of weight gain as inadequate in humans for a cancer-preventive effect of intentional weight loss for any cancer site.
Table 1. The relative risk per 5 kg per m2 increase in body mass index is reported for each site and sex.
| | | |
| --- | --- | --- |
| Cancer type | Men (95% CI) | Women (95% CI) |
| Breast | ND | 1.12 (1.08-1.16) |
| Colon | 1.24 (1.20-1.28) | 1.09 (1.05-1.13) |
| Endometrial | NA | 1.59 (1.50-1.68) |
| Oesophageal | 1.52 (1.33-1.74) | 1.51 (1.31-1.74) |
| Kidney | 1.24 (1.15-1.34) | 1.34 (1.25-1.43) |
| Leukaemia | 1.08 (1.02-1.14) | 1.17 (1.04-1.32) |
| Melanoma | 1.17 (1.05-1.30) | 0.96 (0.92-1.01) |
| Myeloma | 1.11 (1.05-1.18) | 1.11 (1.07-1.15) |
| Non-Hodgkin's lymphoma | 1.06 (1.03-1.09) | 1.07 (1.00-1.14) |
| Pancreatic | 1.07 (0.93-1.23) | 1.12 (1.02-1.22) |
| Prostate | 1.03 (1.00-1.07) | NA |
| Rectal | 1.09 (1.06-1.12) | 1.02 (1.00-1.05) |
| Thyroid | 1.33 (1.04-1.70) | 1.14 (1.06-1.23) |
CI – confidence interval; NA – not applicable; ND – not determined.
Relative risks are taken from a meta-analysis of data as reported in Renehan et al. (11) and Roberts et al. (12).
The evidence
There is sufficient evidence in experimental animals for a cancer-preventive effect of weight gain avoidance by diet restriction, based on studies of spontaneous or chemically induced cancers of the mammary gland, liver, pituitary gland (adenoma), pancreas, for chemically induced cancers of the colon, skin (non melanoma), and prostate, and for spontaneous and genetically induced lymphoma. An association between obesity and cancer at many sites is consistent with animal studies showing that diet restriction decreases spontaneous and carcinogen-induced tumor incidence, multiplicity and size (13-15).
Obesity does not appear to have the same effect on all types of cancers, nor to affect cancer risk in both sexes. One study found that obesity increases the risk of dying from all cancers by about 52% in men, but nearly doubles the risk of dying from any type of cancer in women (16). For some cancers, such as liver cancer, obesity was linked to about a five-fold increased risk of cancer mortality in men and women together.
The association between obesity and colon cancer mortality is not equally strong in both sexes, perhaps because body mass index (BMI) is a better measure of abdominal fat in men than women, or because of hormonal factors that are protective. Obesity-related breast cancer risk also varies by menopausal status. Increasing BMI levels are linked to a lower incidence of breast cancer in premenopausal women, but a greater incidence of breast cancer in postmenopausal women.
The influence of obesity on prostate cancer risk also varies. Although obesity is associated with a lower incidence of prostate cancer, studies suggest that obesity is linked to a greater risk of being diagnosed with a more aggressive form of prostate cancer, and studies have shown that obesity increases the risk of dying from prostate cancer. Growing evidence also indicates that obesity during childhood can increase the risk of childhood cancers, such as leukemia, and young-onset brain tumors.
HOW OBESITY CAN INCREASE CANCER RISK – THE MOLECULAR MECHANISMS
Obesity is strongly associated with changes in the physiological function of adipose tissue. These processes lead to insulin resistance, chronic inflammation, and altered secretion of adipokines. Adipose tissue plays an active role in endocrine signaling to the rest of the body. It has been shown in many studies that adipose tissue secretes molecules into the bloodstream, which signal to other metabolic organs or to the brain to coordinate responses to altered metabolic demands. These molecules – adipokines, can be secreted both from the adipocyte fraction and from the stromal-vascular fraction. Some of these adipokines have a great role in modulating the risk of cancer development. The most likely contributors from the adipose tissue itself are the adipokines – leptin, adiponectin and pro-inflammatory molecules (2).
Several of these factors, such as insulin resistance, increased levels of leptin, plasminogen activator inhibitor-1, and endogenous sex steroids, decreased levels of adiponectin, and chronic inflammation, are involved in carcinogenesis and cancer progression (17).
The variability in how obesity affects the incidence, progression, or mortality of various cancers suggests that these effects derive from multiple mechanisms, which animal research supports.
Fat tissue, by producing hormones and growth factors, and by fostering inflammation, could directly fuel the growth of tumors, thereby affecting cancer incidence, progression, recurrence, and survival rates. All of these factors promote tumor initiation and growth. So, the possible mechanisms for cancerogenesis in obese include altered carcinogen metabolism, decreased oxidative DNA damage, greater DNA repair capacity (10), and a reduction of IGF-1 levels in diet restricted animals (13).
The imbalance in energy is caused by an excess of nutrients and it leads to oxidative stress and fatty acids metabolism abnormalities. It is conducive to inflammation and insulin resistance. This results in a number of processes that underlie cancer initiation and promotion, including DNA damage, cell division and migration, delayed cell death, an increase in blood vessel formation. The accelerated metabolism of fatty acids that occurs in obese individuals might increase DNA damage due to oxidation. In some evidence this DNA damage triggers a malignant transformation. The AKT-mTOR pathway is activated in obese animals, induces tumor cell growth and staves off tumor cell death. It has been implicated in a number of cancers and it is linked to an increased risk of developing a cancer, as well as to the progression of many cancers (fig. 1).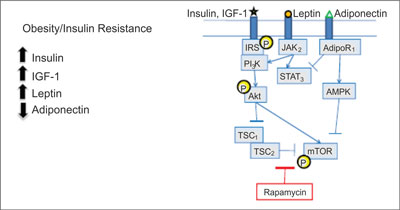 Fig. 1. Converging signaling pathways (18).
AdipoR – adiponectin receptor; AMPK – 5´adenosine monophosphateactivated protein kinase; IGF – insulin-like growth factor; IRS – insulin receptor substrate, JAK – Janus kinases; mTOR – mammalian target of rapamycin; P – phosphorylated; PI3K – phosphoinositide 3-kinase; STAT – signal transducer and activator of transcription; TSC – tuberous sclerosis protein.
Cancer is a disorder with abnormal regulation of the growth and survival of cells. Fat cells generate many hormones, growth factors, and cytokines that can disrupt regulation of cell growth and survival. These molecular factors were estrogen, insulin, insulin like growth factor 1 (IGF-1), leptin, adiponectin, and adipokinase, as well as several mediators of inflammation (fig. 2).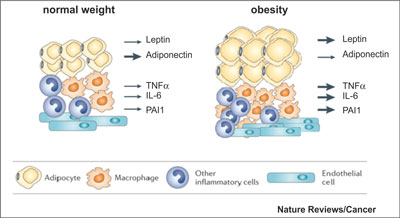 Fig. 2. Changes in adipose tissue in obesity (2).
Estrogen
The postmenopausal women are about 70% of all breast cancer patients. Most of the estrogen produced in postmenopausal women is derived from fat tissue via aromatase, the enzyme converting adrenal androgens into estrogen. The more fat tissue there is, the greater the levels of estrogen produced and in circulation. Such estrogen can fuel the growth of estrogen receptor – positive breast cancers. Studies show that mice made obese by being fed a high-fat diet and then inoculated with breast cancer cells had significantly greater tumor growth rates than mice similarly inoculated, but fed a normal diet (19). When inoculated obese mice were given an aromatase inhibitor, the tumor growth rate was markedly inhibited. Clinical studies confirm that circulating estradiol levels are linked to risk of recurrence of breast cancer. It does not explain the association of obesity with premenopausal breast cancer outcomes or with estrogen receptor – negative breast cancer outcomes (20). This mechanism also does not explain why estrogen is linked to both pre- and postmenopausal endometrial cancer risk (21).
Insulin
Another factor making obese women more susceptible to breast cancer recurrence and death is higher than normal insulin level, usually linked to obesity. BMI increase correlate closely with increases in fasting insulin levels in the nondiabetic population. Greater levels of insulin are linked to an increased risk of distant recurrence and death in breast cancer patients (22, 23).
The fetal version of the insulin receptor is overexpressed in breast cancer cells and can combine with itself or with IGF-1 to turn on the PI3K or Ras/Raf signaling pathways known to foster the growth of several types of cancers. In early-stage breast cancer women, total expression of the fetal insulin receptor is linked to worse survival rates, as is activation of the receptor by IGF-1. Insulin effects on breast cancer prognosis often are not apparent 5 years after diagnosis, suggesting that insulin may be an early mediator of the prognostic effects of obesity in breast cancer, other factors are going to be important later on. Leptin may be one of these factors. Higher levels of leptin are linked to an increased risk of distant recurrence and death from breast cancer – an effect that persists beyond 5 years postdiagnosis (24).
OTHER MOLECULAR MECHANISMS
A number of other hormones, enzymes, and growth factors, that govern cellular energy balance and growth are thought to play a role in increasing cancer risk in obese individuals, including IGF, AMP kinase, leptin, adiponectin, inflammatory cytokines.
IGFs (insulin-like growth factors)
The IGFs stimulate cell growth and proliferation and inhibit apoptosis by activating the AKT signaling pathway. This pathway has been implicated in a number of cancers. IGFs are mitogens that regulate energy-dependent growth processes (25). The insulin-like growth factors (IGFs) may have roles, in addition to insulin, in cancer development. IGF-1 and IGF-2 are hormones produced primarily in the liver and they share sequence homology with insulin (26). Hyperinsulinaemia increases the production of IGF-1 in the liver (27). IGF-1 and IGF-2 are primarily expressed in the liver, but may also be expressed in neoplastic tissue. In fact, IGF-2 mRNA is the most highly upregulated transcript in colorectal cancer compared with normal colonic mucosa (28). Whether obesity is associated with increased IGF levels is controversial. Some studies have shown that obese patients with type 2 diabetes have higher circulating levels of IGF-1 and IGF-2 (29). However, obesity results in a reduction in growth hormone levels, which controls IGF-1 secretion, blunting effects on total IGF-1 levels (30). In this way obesity has a complex association with IGF1 serum levels.
AMP kinase
It is an enzyme that plays an important metabolic role, using its energy-sensing capabilities to trigger the cellular uptake of glucose and the breakdown of fatty acids when cells need more energy. AMP kinase also modulates insulin levels.
Leptin
An adipocyte-derived hormone known as leptin is the central mediator of a feedback loop that regulates appetite and energy homeostasis. Weight loss decreases leptin levels (31). A major physiological site of leptin action is in the central nervous system, but the leptin receptor (OBR; also known as LEPR) is also expressed at lower levels in peripheral tissues (32). Several studies have documented OBR expression in multiple cancers, including those of the breast, prostate and colon (33-35).
Adiponectin
This hormone regulates glucose uptake and the breakdown of fatty acids mainly by up-regulating AMP kinase. Adiponectin is linked to greater energy expenditure, and weight loss increases the amount of this hormone. Epidemiological studies have pointed to a link between adiponectin and carcinogenesis. Adiponectin levels were inversely associated with breast cancer risk in postmenopausal women in a prospective analysis (36). Adiponectin levels were also inversely correlated with the risk of endometrial and renal cell carcinoma (37, 38). However, in a later prospective study, adiponectin levels were not predictive of endometrial cancer risk (39).
The adiponectin-related mechanisms of cancerogenesis inhibition have been examined in several studies. Adiponectin inhibits prostate and colon cancer cell growth (40, 41).
The insufficiency of adiponectin is associated with mammary tumor development in mice, by down-regulating PTEN and up-regulating PI3K-AKT signaling (42).
Cell cycle progression is blocked in colon cancer by adiponectin, and its anti-proliferative effects were impaired by knockdown of the adiponectin receptors (41). Furthermore, adiponectin increased AMPK activity (AMP-activated kinase) – a key regulator of proliferation in response to nutrient status (43).
In response to adiponectin, HCC (hepatocellular carcinoma cells) had increased JNK phosphorylation, decreased mTOR phosphorylation and increased apoptosis (44). Cancers inoculated in adiponectin-deficient mice showed increased growth relative to controls, which was found to be due to reduced macrophage infiltration (45).
Animal models can help us understand how all these factors interact in the complex signaling that occurs in response to changes in caloric intake from the diet (46).

Powyżej zamieściliśmy fragment artykułu, do którego możesz uzyskać pełny dostęp.
Płatny dostęp tylko do jednego, POWYŻSZEGO artykułu w Czytelni Medycznej

(uzyskany kod musi być wprowadzony na stronie artykułu, do którego został wykupiony)
---
Płatny dostęp do wszystkich zasobów Czytelni Medycznej