© Borgis - New Medicine 3/1999, s. 50-51
Jerzy Rak, Lucyna Pośpiech, Marek Bochnia, Agnieszka Jabłonka
Partial resection of tonsils - tonsillotomy; analysis of indications and assessment of treatment results in children in the Otolaryngology Clinic of the Medical University of Wrocław, 1989-1998
Otolaryngology Clinic of Medical University in Wrocław
Head: Prof. Pośpiech Lucyna, PhD
Summary
During the last 10 years our clinic has performed 432 partial resections of palatine tonsils - unilateral and bilateral tonsillotomy. The number of surgical interventions has been increasing significantly in line with the frequency of obstructive sleep apnoea diagnosis in small children. Hypertrophic pharyngeal and palatine tonsils (usually showing no symptoms of inflammation) are the cause of sleep apnoea in the majority of children. Surgical treatment with this method gives good results, and complications, such as bleeding in the early postoperative period or inflammation of the remaining tonsillar and peritonsilar tissue later are noted in very few cases, with a frequency comparable to that observed after tonsillectomy. Thus complications cannot provide an argument against this surgery which is deemed less radical when compared to tonsillectomy.
The purpose of the study was an analysis of the incidence of tonsillotomy and adenotonsillotomy, an assessment of the indications for this surgery, and the results obtained in the Otolaryngology Clinic of the Medical University in Wroclaw during a period of 10 years.
Results and discussion
Within the last ten years in our clinic, tonsillotomy and adeontonsillotomy have been performed on 432 children, of which 228 were females and 204 males, aged 2-16 years. The surgery included 97 tonsillotomies and 336 adenotonsillotomies. In 17 patients, the adenoid was removed 6 months to 7 years before tonsillotomy. In the group of operated children, there were 13 individuals undergoing haematological treatment at the same time, because of haemorrhagic diathesis or anemia, 7 individuals with Down&acutes syndrome and 2 with infantile spinal paralysis. 305 procedures were conducted under general anesthesia and 127 under local anaesthesia. In the course of the first 5 years of the last decade, the annual number of cases for this mode of tonsil surgery was stable, while within the following 5 years both procedures increased significantly in frequency.
Fig. 1. Number of tonsillotomies and adenotonsillotomies in each year.
Surgery under general anaesthesia, amounting to 70% of our cases, seemed to rise in number between 1989 and 1998. Most of the interventions were performed on children from 3 to 7 years of age: 70% of the tonsillotomies and 65% of the adenotonsillotomies (Fig. 2)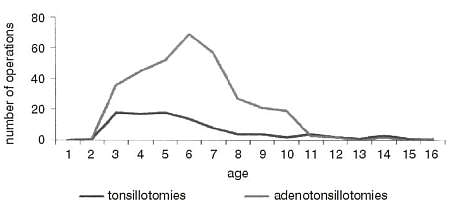 Fig. 2. Number of operations inrelation to the age.
The most common indications for the surgery included: hypertrophia of the pharyngeal or palatine tonsils with significant impairment in nasal patency, with snoring, breathing with open mouth, hearing loss, malocclusion and a history of frequent upper respiratory tract infections, otitis media incidents, tonsillitis and bronchitis. In recent years, a popular indication for the resection of tonsils has been an obstructive peripheral sleep apnoea. Since 1995, 97 children have been operated on for this reason, 41% in this period and 23% within the last ten years. Similar data are reported by Kukwa at al. (8) and Powejbo at al. (10). As a principle, the qualification for tonsillotomy in children was, as in other centre (5, 12, 14), based on a diagnosis of large tonsillar hypertrophy with no evidence of an inflammatory process. Nevertheless, in 32 cases (7.4%), a partial tonsil resection was performed, even though the patients were qualified for tonsillectomy, out of respect for the parents&acute refusal of radical resection. Such refusals, with a tendency to choose partial tonsil resection, has been observed in recent years, which undoubtedly has resulted in a rise in the number of tonsillotomies.

Powyżej zamieściliśmy fragment artykułu, do którego możesz uzyskać pełny dostęp.
Płatny dostęp tylko do jednego, POWYŻSZEGO artykułu w Czytelni Medycznej

(uzyskany kod musi być wprowadzony na stronie artykułu, do którego został wykupiony)
---
Płatny dostęp do wszystkich zasobów Czytelni Medycznej