© Borgis - New Medicine 4/2013, s. 129-131
Jolanta Jadczyszyn, Lechosław P. Chmielik, *Lidia Zawadzka-Głos
Otitis externa induced by a foreign body – a case report
Department of Pediatric Otolaryngology, Medical University of Warsaw, Poland
Head of Department: Lidia Zawadzka-Głos, MD, PhD
Summary
Foreign body is a rare cause of otitis externa. Foreign bodies which clog the auditory canal completely cause a sensation of a blocked ear, pain, hearing loss and tinnitus. Small inorganic bodies can induce no symptoms. Two patients with severe inflammation of the ear canal, which was caused by a foreign body, were hospitalized at The Department of Paediatric Otolaryngology in 2012 years.

INTRODUCTION
Otitis externa may be restricted to one section or comprise the entire ear canal. The major etiological factors are bacteria, fungi and viruses. Skin injuries caused by cleaning the ear, skin maceration secondary to chronic discharge from the ear, diabetes, and immunodeficiency disorders predispose to the infection development. Rare causes of the otitis externa also include foreign bodies inserted into the ear for fun and curiosity. Foreign bodies can be inorganic (hollow beads, buttons, paper balls) or organic (a peas, beans, seeds, fruits, catkins) (1-3). Rarely do we find the foreign bodies in a form of vexing insects, which are alive and move along the ear. Foreign bodies which clog the auditory canal completely cause a sensation of a blocked ear, pain, hearing loss and tinnitus. Small inorganic body can cause no symptoms.
CASE STUDY 1
A 2-year-old girl was admitted because of severe pain in her right ear which had persisted for 5 days. The anamnesis revealed that six days before the admission, the area the right ear pinna had been injured. Therefore, the child remained without an outpatient treatment. She was in a good general condition and had no fever. The laryngology examination revealed a very narrow auditory meatus which prevented an otoscopic evaluation of the tympanic membrane. The examination findings included also a reddening and protruding of the auricle with swelling and redness of the skin covering the soft tissues behind the ear. There was no pathological discharge in the auditory meatus. The results of laboratory tests were as followed: the elevated inflammatory markers, without signs of anaemia, coagulation profile was normal (tab. 1).
Table 1. Laboratory tests.
| | | | | | | | | | |
| --- | --- | --- | --- | --- | --- | --- | --- | --- | --- |
| WBC | RBC | HGB | HCT | LYMPH | NEUT | OB | CRP | APTT | INR |
| 15.4 thous. | 4.07 mln | 10.5 g/dl | 32.7% | 44.9% | 46% | 58 mm/h | 2.7 mg/dl | 33.6 sec. | 0.94 |
The girl was diagnosed with otitis externa. Swabs from the right ear were obtained and the culture revealed Staphylococcus aureus (MSSA).
The topical treatment with and intravenous administration of antibiotics (a third-generation cephalosporin) was commenced. Due to the lack of significant results of the treatment and resolution of symptoms, temporal bone CT was performed on the second day of hospitalization.
The CT revealed occlusion of the right auditory meatus, presence of the metallic foreign body in the final section ("plug of an earring"), swelling of the external auditory meatus walls. Tympanic membrane was dislocated towards the tympanic cavity and its perforation had to be considered. Also some artefacts associated with the foreign body were visible. The tympanic cavity was partially airless. The articulation of the auditory ossicles was normal. The left ear remained unchanged (fig. 1).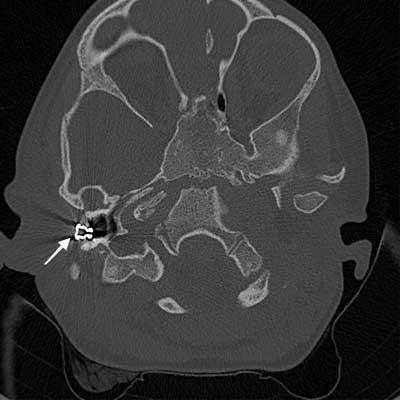 Fig. 1. The temporal bone CT scan – a foreign body is visible in the right external auditory meatus.
The patient was immediately qualified for a surgery.
The metallic foreign body was removed under a general anaesthesia (fig. 2).

Fig. 2. A metallic plug of an earring.

Powyżej zamieściliśmy fragment artykułu, do którego możesz uzyskać pełny dostęp.
Mam kod dostępu
Aby uzyskać płatny dostęp do pełnej treści powyższego artykułu albo wszystkich artykułów (w zależności od wybranej opcji), należy wprowadzić kod.
Wprowadzając kod, akceptują Państwo treść Regulaminu oraz potwierdzają zapoznanie się z nim.
Aby kupić kod proszę skorzystać z jednej z poniższych opcji.
Opcja #1
19 zł
Wybieram
dostęp do tego artykułu
dostęp na 7 dni
uzyskany kod musi być wprowadzony na stronie artykułu, do którego został wykupiony
Opcja #2
49 zł
Wybieram
dostęp do tego i pozostałych ponad 7000 artykułów
dostęp na 30 dni
najpopularniejsza opcja
Opcja #3
119 zł
Wybieram
dostęp do tego i pozostałych ponad 7000 artykułów
dostęp na 90 dni
oszczędzasz 28 zł
Piśmiennictwo
1. Janczewski G, Goździk-Żołnierkiewicz T: Konsultacje otolaryngologiczne. PZWL; Warszawa 1990. 2. Ansley JF, Cunningham MJ: Treatment of aural foreign bodies in children. Pediatrics 1998; 101(4 Pt 1): 638-641. 3. Baker MD: Foreign bodies of the ears and nose in childhood. Pediatr Emerg Care 1987; 3(2): 67-70. 4. Burke RT, Gatton B, Melville LD: Mastoiditis and meningitis complicating an aural foreign body. Pediatr Emerg Care 2012; 28(10): 1070-1071. 5. Otolaryngologia dziecięca, red. M. Chmielik, PZWL; Warszawa 2001. 6. Szmeja Z: Ciała obce ucha, nosa, gardła, krtani, dolnych dróg oddechowych i przełyku. Przew. Lek. 2002, 9(45): 94-96. 7. Bressler K, Shelton C: Ear foreign-body removal: a review of 98 consecutive cases. Laryngoscope 1993; 103(4 Pt 1): 367-370. 8. Olajide TG, Ologe FE, Arigbede OO: Management of foreign bodies in the ear: a retrospective review of 123 cases in Nigeria. Ear Nose Throat J 2011; 90(11): 16-19. 9. Ologe FE, Dunmade AD, Afolabi OA: Aural foreign bodies in children. Indian J Pediatr 2007; 74(8): 755-758. 10. Piromchai P, Srirompotong S, Lertchanaruengrith P, Mills R: A child presenting with a bullet in the middle ear: case report. Clin Med Insights Case Rep 2012; 5: 1-4.