© Borgis - Medycyna Rodzinna 3/2016, s. 138-145
Zygmunt Zdrojewicz1, Karolina Grześkowiak2, Marek Łukasiewicz3
Czy picie kawy jest zdrowe?
Is drinkig coffee healthy?
1Katedra i Klinika Endokrynologii, Diabetologii i Leczenia Izotopami, Uniwersytet Medyczny im. Piastów Śląskich we Wrocławiu
2Uniwersytecki Szpital Kliniczny im. Jana Mikulicza-Radeckiego we Wrocławiu
3Dolnośląski Szpital Specjalistyczny im. T. Marciniaka – Centrum Medycyny Ratunkowej, Wrocław
Summary
Coffee is one of the most popular drinks in the world. Billions people all over the globe cannot imagine missing a cup of one's favourite moke in the morning. During its centuries-old drinking tradition many myths considering its effect to health appears. About its health influence many myths have mounted. The subject of this study is to verify them and to present benefits and threats as the results of its consumption. General Practitioner, being patient's the first and often the only contact with health service is obliged to aware him of them. Also knowledge about coffee's multilevel influence to organism, especially view of intoxication, is very useful in appropriate verification somatic likewise mental disease. Complex description of coffee's impact to particular body systems may help the General Practitioner to implement or exclude it from patient's diet. Long-term researches on coffee's antitumor features are being run, the results aren't unequivocal though. Also tea's advantages have been quoted, considering its growing popularity. That concerns particularly emergency situations. The researches' results cited in this thesis might be a valuable clue in the patient's health condition and live comfort improvement process. Additionally, acquaintance of coffee's interactions with drugs shall make the searching the reasons of treatment failures easy to the doctor. Also the precautions, that need to be maintained due to minimize undesirable effects risk of both potions, have been included.

Wstęp
Produkcja
Obecnie kawa stanowi jeden z podstawowych produktów spożywczych i towarów handlowych na świecie. Dane z 2013 roku wskazują, że rocznie na świecie konsumujemy 8,7 miliona ton kawy. Podstawowym jej producentem niezmiennie od lat pozostaje Brazylia, która wytwarza ok. 3 miliony ton. Na kolejnych miejscach w światowej produkcji plasują się: Wietnam, Indonezja, Kolumbia, Etiopia, Indie, Honduras i Meksyk (ryc. 1) (1).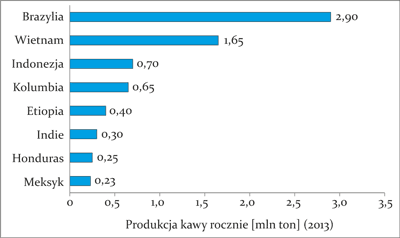 Ryc. 1. Producenci kawy (opracowane na podstawie oficjalnej strony internetowej Międzynarodowej Organizacji Kawy, http://www.ico.org/)
Konsumpcja
Każdego dnia na świecie ludzie wypijają ponad trzy miliardy filiżanek kawy. Dane Międzynarodowej Organizacji Kawy wskazują, iż największe spożycie w przeliczeniu na jednego mieszkańca odnotowuje się w Skandynawii (nawet powyżej 10 kg rocznie), Islandii, Holandii i Szwajcarii. W Polsce konsumpcja oceniana jest na 1-1,5 filiżanki dziennie, co odpowiada rocznemu spożyciu ok. 2-3 kg (ryc. 2) (2). Zawartość kofeiny w różnych rodzajach kawy i herbaty przedstawia tabela 1.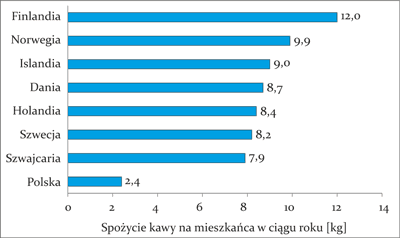 Ryc. 2. Konsumenci kawy (opracowane na podstawie oficjalnej strony internetowej Międzynarodowej Organizacji Kawy, http://www.ico.org/)
Tab. 1. Zawartość kofeiny w różnych rodzajach napojów
Odżywka
Zawartość kofeiny
– filiżanka czarnej kawy
– filiżanka kawy rozpuszczalnej
– filiżanka espresso
– niepełna szklanka czarnej sypanej herbaty
– butelka coli
– filiżanka kawy mrożonej
– szklanka herbaty w torebkach
– butelka (0, 33 l) coca-coli
– szklanka zielonej herbaty
70-140 mg
95 mg
57 mg
65 mg
30-90 mg
50-70 mg
46 mg
45 mg
31 mg
Działanie ogólne
Mając na uwadze popularność spożywania kawy, samoistnie nasuwa się pytanie dotyczące jej wpływu na zdrowie. W tym miejscu należy zweryfikować mity o jej rzekomej szkodliwości na długość i jakość życia konsumenta. Powszechnie w społeczeństwie pokutuje opinia, iż kawa jest używką przyjemną i stosunkowo tanią, ale mającą wpływ na nasze zdrowie nie mniej destrukcyjny niż alkohol czy papierosy. Wielu lekarzy, zwłaszcza rodzinnych, podczas zbierania wywiadu, pytając o spożycie kawy, traktuje odpowiedź pozytywną jako czynnik jednoznacznie pogarszający rokowanie. Przeprowadzane na całym świecie badania udowadniają jednak, iż osąd ten nie zawsze jest uzasadniony. Kofeina zwarta m.in. w kawie (także w herbacie, owocach guarany, nasionach kakaowca, popularnej coli i innych napojach energetyzujących) wykazuje szerokie działanie lecznicze. Znalazła zastosowanie w preparatach przeciwmigrenowych, przeciwastmatycznych, przeciwbólowych, pobudzających, w leczeniu bezdechu niemowląt. Dawka lecznicza wynosi 200 mg, co stanowi ekwiwalent około 4 kaw espresso, 3 filiżanek kawy rozpuszczalnej, 2 filiżanek kawy mielonej i około 20 filiżanek kawy odkofeinowanej (wartości te są przybliżone i w dużej mierze zależne od serwującego). Zawiera antyoksydanty, czyli przeciwutleniacze, które powstrzymują proces utleniania w komórkach, a przez to starzenie się tkanek. Filiżanka kawy zawiera więcej antyoksydantów niż szklanka soku z grejpfrutów, borówek amerykańskich, malin czy pomarańczy. Kofeina działa szybko. Jest szybko przyswajana i już po pięciu minutach od spożycia można potwierdzić jej obecność we krwi. Szybko i łatwo przenika do mózgu i osiąga szczyt stężenia we krwi po 20-30 minutach. Poziom jej spada następnie o połowę przez następne 3-6 godzin, a dalszą 1/4 przez kolejne 3-6 godzin. Prawie cała kofeina zostaje zużyta przez organizm, jedynie 1% wydalany jest w formie przetworzonej (3). Kawa jest tak popularna na świecie, że jej wybieraniem, parzeniem oraz podawaniem zajmuje się zawodowo przygotowana osoba – barista (wł. barista – barman).
Układ nerwowy

Powyżej zamieściliśmy fragment artykułu, do którego możesz uzyskać pełny dostęp.
Mam kod dostępu
Aby uzyskać płatny dostęp do pełnej treści powyższego artykułu albo wszystkich artykułów (w zależności od wybranej opcji), należy wprowadzić kod.
Wprowadzając kod, akceptują Państwo treść Regulaminu oraz potwierdzają zapoznanie się z nim.
Aby kupić kod proszę skorzystać z jednej z poniższych opcji.
Opcja #1
19 zł
Wybieram
dostęp do tego artykułu
dostęp na 7 dni
uzyskany kod musi być wprowadzony na stronie artykułu, do którego został wykupiony
Opcja #2
49 zł
Wybieram
dostęp do tego i pozostałych ponad 7000 artykułów
dostęp na 30 dni
najpopularniejsza opcja
Opcja #3
119 zł
Wybieram
dostęp do tego i pozostałych ponad 7000 artykułów
dostęp na 90 dni
oszczędzasz 28 zł
Piśmiennictwo
1. International Coffee Organization: http://www.ico.org/trade_statistics.asp?section=Statistics. 2. Nesterowicz K: Dobroczynne właściwości kawy. Manager Apteki 2012; 3: 30-35. 3. Frankowski M, Kowalski A, Ociepa A et al.: Kofeina w kawach i ekstraktach kofeinowych i odkofeinowanych dostępnych na polskim rynku. Bromatologia i Chemia Toksykologiczna 2008; 1: 21-27. 4. Benedetti MD, Bower JH, Maraganore DM et al.: Smoking, alcohol, and coffee consumption preceding Parkinson's disease. Neurology 2000; 55: 1350-1358. 5. Ross GW, Abbott RD, Petrovitz H et al.: Association of coffee and caffeine intake with the risk of Parkinson disease. JAMA 2000; 283: 2674-2679. 6. Qi H, Li S: Dose-response meta-analysis on coffee, tea and caffeine consumption with risk of Parkinson's disease. Geriatr Gerontol Int 2014; 14(2): 430-439. 7. Arendash GW: Caffeine and coffee as therapeutics against Alzheimer's disease. J Alzheimers Dis 2010; 20: 117-126. 8. Eskelinen MH, Kivipelto M: Midlife coffee and tea drinking and the risk of late-life dementia: a population-based CAIDE study. J Alzheimers Dis 2009; 161(1): 85-91. 9. Borota D, Murray E, Yassa M et al.: Post-study caffeine administration enhances memory consolidation in humans. Nature Neuroscience 2014; 17: 201-203. 10. Brice CF, Smith AP: The effects of caffeine on simulated driving, subjective alertness and sustained attention. Hum Psychopharmacol Clin Exp 2001; 16: 523-531 11. Finnegan D: The health effects of stimulant drinks. Nutrition Bulletin 2003; 28: 147-155. 12. Botella P, Parra A: Coffee increases state anxiety in males but not in females. Human Psychopharmacology: Clinical and Experimental Volume 2003; 2: 141-143. 13. Brice CF, Smith AP: Factors associated with caffeine consumption. Int J Food Sci Nutr 2002; 53: 55-64. 14. Smith JE, Lawrence AD, Diukova A et al.: Storm in a coffee cup: caffeine modifies brain activation to social signals of threat. Soc Cogn Affect Neurosci 2012; 7(7): 831-840. 15. Krahn DD, Hasse S, Ray A et al.: Caffeine consumption in patients with eating disorders. Hospital and Community Psychiatry 1991; 42(3): 313-315. 16. Winston A, Hardwick E, Jaberi N: Neuropsychiatric effects of caffeine. Advances in Psychiatric Treatment 2005; 11: 432-439. 17. Mayo KM, Falkowski WJ: Caffeine: use and effects in long-stay psychiatric patients. British Journal of Psychiatry 1993; 162: 543-545. 18. Alsene K, Deckert J, Sand P, de Wit H: Association between A2a receptor gene polymorphisms and caffeine-induced anxiety. Neuropsychopharmacology 2003; 28(9): 1694-1702. 19. Pappaioannau TG, Karatzi K, Karatzis E et al.: Acute effects of caffeine on arterial stiffness, wave reflections, and central aortic pressures. American Journal of Hypertension 2005; 18(1): 129-136. 20. Wu JN, Ho SC, Zhou C et al.: Coffee consumption and risk of coronary heart diseases: a meta-analysis of 21 prospective cohort studies. Int J Cardiol 2009; 137: 216-225. 21. Mostofsky E, Rice MS, Levitan EB, Mittleman MA: Habitual coffee consumption and risk of heart failure: a dose-response meta-analysis. Circ Heart Fail 2012; 5: 401-405. 22. D'Elia L, Cairella G, Garbagnati F et al.: Moderate coffee consumption is associated with lower risk of stroke: meta-analysis of prospective studies. J Hypertens 2012; 30: e107. 23. Corti R, Binggeli C, Sudano I et al.: Coffee acutely increases sympathetic nerve activity and blood pressure independently of caffeine content: role of habitual versus nonhabitual drinking. Circulation 2002; 106(23): 2935-2940. 24. Winkelmayer WC, Stampfer MJ, Willett WC et al.: Habitual caffeine intake and the risk of hypertension in women. JAMA 2005; 294(18): 2330-2335. 25. Pelchovitz DJ, Goldberger JJ: Caffeine and cardiac arrhythmias: a review of the evidence. American Journal of Medicine 2011; 124: 284-289. 26. Klatsky LA, Hasan AS, Armstrong MA et al.: Coffee, caffeine, and risk of hospitalization for arrhythmias. Permanente 2011; 15: 19-25. 27. Conen D, Chiuve SE, Everett BM et al.: Caffeine consumption and incident atrial fibrillation in women. Am J Clin Nutr 2010; 92: 509-514. 28. Frost L, Vestergaard P: Caffeine and risk of atrial fibrillation or flutter: the Danish Diet, Cancer, and Health Study. Am J Clin Nutr 2005; 81: 578-582. 29. Zhang Y, Post WS, Dalal D et al.: Coffee, alcohol, smoking, physical activity and QT interval duration: results from the Third National Health and Nutrition Examination Survey. PloS One 2011; 6: e17584 30. Moens AL, Goovaerts I, Claeys MJ, Vrints CJ: Flow-mediated vasodilatation: a diagnostic instrument, or an experimental tool? Chest 2005; 127: 2254-2263. 31. Buscemi S, Verga S, Batsis JA et al.: Acute effects of coffee on endothelial function in healthy subjects. European Journal of Clinical Nutrition 2010; 64: 483-489. 32. Buscemi S, Verga S, Batsis JA et al.: Dose-dependent effects of decaffeinated coffee on endothelial function in healthy subjects. European Journal of Clinical Nutrition 2009; 63: 1200-1205. 33. Buscemi S, Batsis JA, Arcoleo G, Verga S: Coffee and endothelial function: a battle between caffeine and antioxidants? European Journal of Clinical Nutrition 2010; 64: 1242-1243. 34. Lohsiriwat S, Puengna N, Leelakusolvong S: Effect of caffeine on lower esophageal sphincter pressure in Thai healthy volunteers. Dis Esophagus 2006; 19(3): 183-188. 35. Van Deventer G, Kamemoto E, Kuznicki JT et al.: Lower esophageal sphincter pressure, acid secretion, and blood gastrin after coffee consumption. Dig Dis Sci 1992; 37(4): 558-569. 36. Johnston KL, Clifford MN, Morgan LM: Coffee acutely modifies gastrointestinal hormone secretion and glucose tolerance in humans: glycemic effects of chlorogenic acid and caffeine. Am J Clin Nutr 2003; 78: 728-733. 37. Keijzers GB, De Galan BE, Tack CJ et al.: Caffeine can decrease insulin sensitivity in humans. Diabetes Care 2002; 25: 364-369. 38. Van Dam RM, Feskens EJ: Coffee consumption and risk of type 2 diabetes mellitus. Lancet 2002; 360: 1477-1478. 39. St-Onge MP, Salinardi T, Black RM: A weight-loss diet including coffee-derived mannooligosaccharides enhances adipose tissue loss in overweight men but not women. Obesity (Silver Spring) 2012; 20(2): 343-348. 40. Welsh EJ, Bara A, Barley E, Cates CJ: Caffeine for asthma. Cochrane Database Syst Rev 2010 Jan 20; 1: CD001112. 41. Natella F, Nardini M, Giannetti I et al.: Coffee drinking influences plasma antioxidant capacity in humans. J Agric Food Chem 2002; 50(21): 6211-6216. 42. Bravi F, Bosetti C, Tavani A et al.: Coffee reduces risk for hepatocellular carcinoma: an updated meta-analysis. Clin Gastroenterol Hepatol 2013; 11(11): 1413-1421. 43. Jordan SJ, Purdie DM, Green AC, Webb PM: Coffee, tea and caffeine and risk of epithelial ovarian cancer. Cancer Causes Control 2004; 15(4): 359-365. 44. Parazzini F, Chiaffarino F, Chatenoud L: Maternal coffee drinking in pregnancy and risk of small for gestational age birth. European Journal of Clinical Nutrition 2005; 59: 299-301. 45. Food Standard Agency: https://www.food.gov.uk/science/additives/energydrinks. 46. Leszko A, Bała M, Jaeschke R: Picie kawy a ryzyko zgonu. Medycyna Praktyczna 2013; 900(54): 87-93. 47. Freedman ND, Park Y, Abnet CC et al.: Association of coffee drinking with total and cause-specific mortality. N Engl J Med 2012; 366: 1891-1904. 48. Strubelt O, Diederich KW: Experimental treatment of the acute cardiovascular toxicity of caffeine. Clinical toxicology 1999; 37(1): 29-33. 49. Dworzański W, Burdan F, Szumiło M et al.: Kawa i kofeina – wrogowie czy sprzymierzeńcy kardiologa? Kardiologia Polska 2011; 2(69): 173-176. 50. Cournot MP, Hercberg S: Prevention of mineral deficiencies (iron, calcium and magnesium). Rev Prat 1993; 43(2): 141-145. 51. Jarosz M: Uważaj, co jesz, gdy zażywasz leki. Wydawnictwo Lekarskie PZWL, Warszawa 2007: 89-91. 52. Ye Y, Abu Said GH, Lin Y et al.: Caffeinated coffee blunts the myocardial protective effects of statins against ischemia-reperfusion injury in the rat. Cardiovascular Drugs and Therapy 2008; 22(4): 275-282. 53. Carrillo JA, Benitez J: Clinically significant pharmacokinetic interactions between dietary caffeine and medications. Clin Pharmacokinet 2000; 39(2): 127-153. 54. Seifert M, Zdrojewicz Z: Pij herbatę – będziesz zdrowszy. Problemy Terapii Monitorowanej 2011; 22(3/4): 147-152. 55. Zdrojewicz Z, Kosowski W, Królikowska N et al.: Betel – czwarta najpopularniejsza odżywka świata. Pol Mer Lek [przyjęta do druku].