Piotr Kwast1, Maja Waszak2, Joanna Rafałowska2, *Lidia Zawadzka-Głos1
Periorbital complications as a result of rhinosinusitis in a pediatric patient. Case report.
Rzadki obraz powikłań oczodołowych u 3-letniego chłopca z wytrzeszczem. Opis przypadku.
1Department of Pediatric Otolaryngology, Medical University of Warsaw, Poland
Head of Department: Associate Professor Lidia Zawadzka-Głos, MD, PhD
2Student Research Club on Laryngology in the Department of Pediatric Otolaryngology, Medical University of Warsaw, Poland
Mentor of Research Club: Piotr Kwast, MD
Streszczenie
Wstęp. Ostre zapalenie błony śluzowej nosa i zatok przynosowych jest chorobą występującą u dzieci bardzo często, natomiast jego powikłania występują dużo rzadziej. Najczęstszym powikłaniem ostrego zapalenia zatok przynosowych jest zapalenie tkanek miękkich oczodołu, a jedną z jego manifestacji jest ropień podokostnowy oczodołu.
Opis przypadku. Przedstawiamy przypadek 3-letniego chłopca z istniejącym wcześniej obustronnym wytrzeszczem, dwukrotnie leczonego z powodu zapalenia tkanek miękkich oczodołu w przebiegu ostrego zapalenia zatok przynosowych. Podczas pierwszego epizodu doszło do wytworzenia ropnia oczodołu, który leczono za pomocą ethmoidektomii otwartej. Drugi epizod leczono zachowawczo. W tomografii komputerowej stwierdzono potencjalną dehiscencję blaszki papierowatej jako przyczynę nawracających powikłań oczodołowych. Pacjent został poddany planowej adenotomii i endoskopowej operacji zatok przynosowych. Obecnie pozostaje pod obserwacją Kliniki, nie stwierdza się nawrotów powikłanego zapalenia zatok.
Wnioski. Powikłania oczodołowe, będące w otolaryngologii stanem nagłym, powinny być niezwłocznie leczone w warunkach szpitalnych. Dehiscencje blaszki papierowatej mogą wpływać na łatwiejsze rozwijanie się powikłań oczodołowych u dzieci z ostrym zapaleniem zatok. Pacjenci z istniejącym wcześniej wytrzeszczem zgłaszający się z oczodołowymi powikłaniami zapalenia zatok, powinni być poddani szczególnie uważnej ocenie.
Summary
Introduction. Acute rhinosinusitis is a very common disease in children, however, its complications occur much less frequently. The most common complication of rhinosinusitis is periorbital cellulitis, and its manifestations include subperiosteal abscess of the orbit.
Case report. We present a case of a 3-year-old boy with a preexisting bilateral exophtalmia, who was treated twice for periorbital cellulitis in the course of acute rhinosinusitis. During the first episode, an orbital abscess occurred and was subsequently treated with external ethmoidectomy. The second episode was treated conservatively. In computed tomography, a potential dehiscence of lamina papyracea was identified as the reason for recurrent periorbital complications. The patient underwent planned adenoidectomy and endoscopic sinus surgery. He currently remains under the care of the Department. No recurrence of complicated rhinosinusitis have been diagnosed.
Conclusions. Periorbital complications, which are considered an emergency in otorhinolaryngology, should be immediately treated in hospital conditions. Dehiscence of lamina papyracea may predispose to periorbital complications in children with acute rhinosinusitis. Special caution should be exercised when diagnosing patients with preexisting exophtalmia reporting with orbital complications of rhinosinusitis.

Introduction
Acute rhinosinusitis is a very common disease in children, however, its complications occur much less frequently (1, 2). The most common complication of rhinosinusitis is periorbital cellulitis (1, 2). The process of spreading the inflammation to the neighboring tissues occurs more frequently in pediatric patients than in adult ones (1).
Periorbital complications are always considered an emergency, as the process may progress quickly (1).
Understanding the risk factors for complications can help to effectively diagnose and identify the patients who are at a high risk of relapse.
Aim
We present a case of a child with pre-existing exophtalmia who had two episodes of periorbital complications of acute rhinosinusitis. The authors of the paper would like to draw attention to the possible relationship of the patient's particular anatomy and the severity of the complications that he developed.
Material and Methods
Medical data concerning the case were collected by the authors during the patient's hospitalization. The photos of the child are submitted with the parents' written consent.
Case report
First episode of periorbital cellulitis
An otherwise healthy 3-year-old boy reported to the emergency department of the pediatric clinical hospital due to edema and erythema of the eyelids that had been intensifying for a few days, as well as exophtalmia of the right eye. Just before the occurrence of these symptoms, the patient had suffered from an upper respiratory tract infection accompanied by purulent nasal discharge and subfebrile temperature. The parents first reported to the primary care physician, who referred them to an ophtalmologist. The ophtalmologist diagnosed the boy with purulent conjunctivitis. The applied topical treatment was ineffective and the symptoms intensified. On the fifth day from the onset of the symptoms, the parents and the boy reported to the hospital.
In the emergency department, a laryngological consultation was ordered. A laryngologist noted a pronounced edema and erythema of the right eyelids, exophtalmia, displacement of the right eyeball, as well as limited mobility of the eyeball in all the directions. Computed tomography of the head was performed and revealed increased density of the inside of ethmoidal air cells, as well as a potential inflammatory infiltration or a possible formation of a subperiosteal abscess in the right orbit. A vision examination was not possible due to the young age and lack of cooperation of the patient. According to the parents, the boy's vision of the right eye was unaffected. The clinical characteristics and results of imaging on admission are shown in figure 1. A large damage of the lamina papyracea occurring on the side of the developing complications should be noted.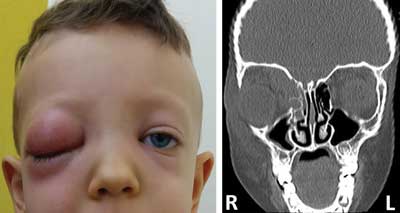 Fig. 1 a, b. Photograph (a) and computed tomography (b) of the patient on the admission day
The patient was immediately admitted to the Department of Pediatric Otolaryngology. Basic laboratory tests were taken and revealed a moderate increase in the levels of inflammatory markers. Intravenous antibiotic therapy with ceftriaxone and clindamycin was introduced, along with analgesic and anti-inflammatory treatment, as well as a nasal decongestant. The topical antibiotic treatment into the conjunctival sac (tobramycin) that the patient had been receiving before admission was continued. The patient was qualified for urgent external ethmoidectomy and orbital abscess decompression. The procedure was performed on the admission day under general anesthesia. During the procedure, abundant purulent content was obtained and sent for bacteriological examination (Staphylococcus epidermidis was cultured, which was most likely the result of a contamination of the sample).
After the procedure, the exophtalmia resolved, and a gradual reduction of the redness and edema of the lids of the right eye were observed. Ophthalmology consultation after the procedure revealed no pathological findings on the fundus of the right eye. On the eighth day after the surgery, stitches remaining from the external ethmoidectomy were removed. The patient was discharged home in good general and local condition. Figure 2 shows photographs of the patient 7 days and 1 month after the procedure.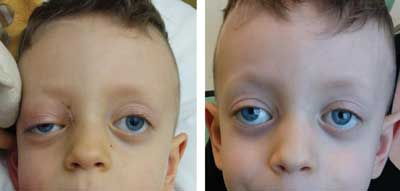 Fig. 2 a, b. Patient on the eighth day (a) and a month after ethmoidectomy (b)
Further treatment

Powyżej zamieściliśmy fragment artykułu, do którego możesz uzyskać pełny dostęp.
Mam kod dostępu
Aby uzyskać płatny dostęp do pełnej treści powyższego artykułu albo wszystkich artykułów (w zależności od wybranej opcji), należy wprowadzić kod.
Wprowadzając kod, akceptują Państwo treść Regulaminu oraz potwierdzają zapoznanie się z nim.
Aby kupić kod proszę skorzystać z jednej z poniższych opcji.
Opcja #1
19 zł
Wybieram
dostęp do tego artykułu
dostęp na 7 dni
uzyskany kod musi być wprowadzony na stronie artykułu, do którego został wykupiony
Opcja #2
49 zł
Wybieram
dostęp do tego i pozostałych ponad 7000 artykułów
dostęp na 30 dni
najpopularniejsza opcja
Opcja #3
119 zł
Wybieram
dostęp do tego i pozostałych ponad 7000 artykułów
dostęp na 90 dni
oszczędzasz 28 zł
Piśmiennictwo
1. Fokkens WJ, Lund VJ, Mullol J et al.: EPOS 2012: European position paper on rhinosinusitis and nasal polyps 2012. Rhinology 2012; 50 (Suppl 23): 1-299.
2. Anselmo-Lima WT, Sakano E, Tamashiro E et al.: Rhinosinusitis: evidence and experience: October 18 and 19, 2013 - São Paulo. Braz J Otorhinolaryngol 2015; 81 (Suppl 1): S1-S49.
3. Tatli MM, San I, Karaoglanoglu M.: Paranasal sinus computed tomographic findings of children with chronic cough. Int J Pediatr Otorhinolaryngol 2001; 60(3): 213-217.
4. Botting AM, McIntosh D, Mahadevan M: Paediatric pre- and post-septal periorbital infections are different diseases. A retrospective review of 262 cases. Int J Pediatr Otorhinolaryngol 2008; 72(3): 377-383.
5. Chandler JR, Langenbrunner DJ, Stevens ER.: The pathogenesis of orbital complications in acute sinusitis. The Laryngoscope 1970; 80(9): 1414-1428.
6. Jackson K, Baker SR.: Clinical implications of orbital cellulitis. Laryngoscope 1986; 96(5): 568-574.
7. Crosbie R, Clement W, Kubba H: Paediatric orbital cellulitis and the relationship to underlying sinonasal anatomy on computed tomography. J Laryngol Otol 2017; 131(8): 714-718.
8. Jatana KR, Grischkan JM, Skomorowski MJ et al.: Recurrent unilateral periorbital cellulitis in a pediatric patient--an anatomic abnormality. Int J Pediatr Otorhinolaryngol 2008; 72(10): 1577-1580.
9. Karkos PD, Karagama Y, Karkanevatos A et al.: Recurrent periorbital cellulitis in a child. A random event or an underlying anatomical abnormality? Int J Pediatr Otorhinolaryngol 2004; 68(12): 1529-1532.
10. Caulley L, Corsten G, Hong P: Recurrent periorbital cellulitis in a very young child: a case report and review of literature. Int J Pediatr Otorhinolaryngol 2012; 76(4): 606-608.
11. Grischkan JM, Elmaraghy CA, Garrett MR et al.: Radiographic Findings and Clinical Correlates in Pediatric Periorbital Infections. Int J Otorhinolaryngol 2015; 2(1): 5.
12. Eviatar E, Sandbank J, Kleid S et al.: The role of osteitis of the lamina papyracea in the formation of subperiosteal orbital abscess in young children. Int J Pediatr Otorhinolaryngol 2014; 78(12): 2267-2270.
13. Sorin A, April MM, Ward RF: Recurrent periorbital cellulitis: an unusual clinical entity. Otolaryngol. Head Neck Surg 2006: 134(1): 153-156.
14. Singh SK, James E, Sabarigirish K et al.: Bilateral orbital complications of paediatric rhinosinusitis. Med J Armed Forces India 2014; 70(1): 68-72.
15. Szyfter W: Wytyczne Ministerstwa Zdrowia – kategorie medyczne: przypadki pilne i przypadki stabilne: Otolaryngologia. Wytyczna z dnia 18 stycznia 2006 r. http://www2.mz.gov.pl/wwwfiles/ma_struktura/docs/wytyczne7_08052006.pdf (accessed 09.03.2018).