Michał Michalik, *Adrianna Podbielska-Kubera, Alfred Samet, Agnieszka Dmowska-Koroblewska, Marcin Broda
Corynebacterium pseudodiptheriticum – a dangerous respiratory pathogen. A case report
Corynebacterium pseudodiptheriticum – niebezpieczny patogen dróg oddechowych. Opis przypadku
Department of Otolaryngology, MML Medical Centre, Warsaw, Poland
Head of Department: Michał Michalik, MD, PhD
Streszczenie
Jesteśmy przekonani, że w patogenezie przewlekłego zapalenia zatok zbyt małą rolę przypisuje się bakteriom należącym do rodzaju Corynebacterium. W większości przypadków szczepy te traktowane są jako zanieczyszczenia. Tymczasem bakterie z rodzaju Corynebacterium mogą stanowić klinicznie istotny czynnik chorobotwórczy, zwłaszcza w przypadkach, gdy pobrane próbki materiału pochodzą z dolnych dróg oddechowych od chorych objawowych. Szczepy Corynebacterium cechują się zdolnością przetrwania w postaci biofilmów w środowisku szpitalnym, przyczyniając się do rozprzestrzeniania oporności na antybiotyki.
Przedstawiamy rzadki przypadek zakażenia Corynebacterium pseudodiptheriticum. Pacjentką była 10-letnia dziewczynka, która skarżyła się na nawracające katary i problemy z zatokami. Wykonano zabieg adenotomii i funkcjonalnej endoskopowej operacji zatok. Pacjentka zgłosiła się ponownie na konsultację pół roku po zabiegu z powodu utrzymującego się od 2 tygodni zaostrzenia objawów chorobowych (napływanie gęstej, trudnej do odkrztuszenia wydzieliny). Z pobranych wymazów wyhodowano C. pseudodiptheriticum i Staphylococcus epidermidis. Zastosowano leczenie cyprofloksacyną. Pacjentka zaobserwowała poprawę stanu zdrowia. Opisany przypadek zwraca uwagę na konieczność identyfikacji szczepów do gatunku oraz podkreśla rangę gatunków bakteryjnych uznawanych powszechnie za komensalne, które mogą u osób predysponowanych przyczynić się do wystąpienia poważnych powikłań.
Summary
We believe that an insufficient role is attributed to bacteria belonging to the genus Corynebacterium in the pathogenesis of chronic sinusitis. These strains are treated as contaminants in most cases. Meanwhile, Corynebacterium strains may be a clinically significant pathogenic agent, especially in cases where samples are collected from the lower respiratory tract in symptomatic patients. Corynebacterium strains can survive in the form of biofilms in hospitals and cause multi-resistant infections.
We present a rare case of Corynebacterium pseudodiptheriticum infection. The patient was a 10-year-old girl who complained of recurrent rhinitis and sinusitis. Adenoidectomy and functional endoscopic sinus surgery were performed. The patient returned for a consultation after six months due to exacerbation of the disease symptoms lasting for 2 weeks (inflow of thick secretions difficult to expectorate). Corynebacterium pseudodiptheriticum and Staphylococcus epidermidis were cultured from swabs. The patient was treated with ciprofloxacin, and her condition improved. The described case points to the need to identify strains of a given species and to pay attention to species commonly considered as commensals that may contribute to serious complications.
Introduction
Opportunistic microorganisms are etiological factors of many infectious diseases. Under normal conditions, they colonise the skin, oral cavity, upper respiratory tract and mucous membranes without causing any symptoms. However, commensals may induce infections in immunocompromised patients, patients after surgeries, as well as those with organ and systemic diseases. Such organisms include gram-positive club-shaped bacilli, i.e. Corynebacterium (1).
Of the 90 Corynebacterium species described in 2014, 16 were isolated from different environments, such as synthetic surfaces, food, water and soil; about 50 were isolated from humans or human clinical material; and 32 species were found in animals. Several species were detected both in humans and animals, which implies the possibility of transferring bacteria between animals and humans (2).
It was thought for many years that within clinically relevant bacteria only a very limited number of Corynebacterium species are potential human pathogens, e.g. C. diphtheriae, which is the etiological factor in diphtheria (2). However, literature data show that, based on the natural location in the oropharyngeal cavity, respiratory infections, such as acute and chronic bronchitis, acute exacerbations of bronchitis, pneumonia, and necrotising tracheitis, are also encountered (2).
Corynebacterium spp. infections usually affect patients receiving immunosuppressive therapy, long-term antibiotic therapy, or steroid treatment. Furthermore, these strains are isolated significantly more frequently from elderly patients (> 65 years), patients after surgeries, with ischemic heart disease, renal failure, respiratory failure, diabetes, cancer, multiorgan injuries, HIV, after amputations, transplantations and in patients receiving renal replacement therapy (1).
Corynebacterium spp. are characterised by significant virulence: they exhibit adhesive, haemolytic and haemagglutination activity. The most virulent strains include C. diphtheriae, C. pseudotuberculosis, C. urealyticum and C. ulcerans (3).
Together with C. striatum and C. propinquum, 2 closely related species, C. diphtheriticum forms a group of newly emerging respiratory pathogens, particularly in patients with chronic respiratory infections. Literature reports include patients with chronic obstructive pulmonary disease (COPD) and cystic fibrosis (CF). HIV-infected patients are also at a higher risk of C. pseudodiphtheriticum infections (2).
Corynebacterium pseudodiphtheriticum is a part of local bacterial microflora of the skin and mucus membranes in humans (4). Isolated in clinical trials, it is usually treated as contaminants (5). Nevertheless, these bacteria have emerged as opportunistic pathogens causing clinically significant infections in recent decades (4). The most important infections include endocarditis in patients with heart valves, respiratory infection (trachea, bronchi, lungs), and urinary tract infections (1).
Although the pathogenicity of C. pseudodiptheriticum is not an uncommon phenomenon, its role as an opportunistic pathogen is limited mainly to the lower respiratory tract, particularly in immunocompromised patients (6).
Corynebacterium pseudodiptheriticum plays an important role as an in-hospital pathogen. Unfortunately, so far little is known about its virulence factors (7). It is believed that the affinity for human fibrinogen and fibronectin, and the ability to form biofilms may contribute to the generation and spread of C. pseudodiptheriticum infections (8). Biofilm-related infections are considered to be the main cause of in-hospital morbidity and mortality. Bacteria living in a biofilm environment have the ability to exchange genetic material, and can also become permanent colonisers of a given body region (9). Souza et al. (8) described adhesive properties and the ability to form biofilm on hydrophilic (glass) and hydrophobic (plastic) surfaces by C. pseudodiptheriticum strains isolated from patients with local (pharyngitis) and systemic (bacteremia) infections.
Case report
A 10-year-old patient reported to Medical Center MML in Warsaw due to a 4-year history of rhinitis and sinusitis. Radiographic documentation showed opacity of the sinuses. The patient provided a report from sinus CT performed a month earlier, which confirmed chronic inflammation in the right maxillary sinus, obstructed ostiomeatal complexes and ethmoidal opacity. Changes were observed in the right sphenoid sinus. Physical examination revealed mucous secretion in the maxillary sinus ostium and a hypertrophic pharyngeal tonsil blocking the nasal passages. Chronic maxillary sinusitis was diagnosed, functional endoscopic sinus surgery (FESS) and adenoidectomy were performed. The patient reported with earlier results of bacteriological tests, which were positive for Haemophilus infuenzae, Neisseria, and S. epidermidis. CT was performed (fig. 1).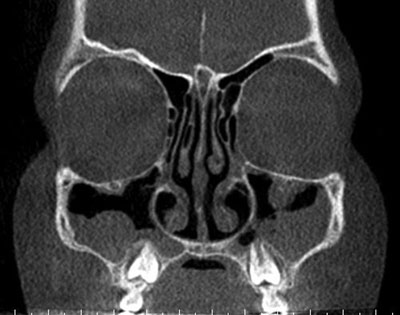 Fig. 1. Sinus CT before the procedure
Adenoidectomy and FESS were performed in 2016. Augmentin was included. The patient reported for a follow-up visit 2 days after procedure. She was feeling good and showed no signs of bleeding. The nose was healing without bleeding, the pharynx was pale.
The patient reported again for consultation 6 months after the surgery due to symptom exacerbation (lasting for 2 weeks): an inflow of thick secretion difficult to expectorate. Bacteriological swabs were collected. All samples were secured on Amies transportation medium with activated charcoal. Microbes were cultured under aerobic conditions. Gram staining was positive for multiple Gram-positive club-shaped rods. The catalase test was positive. The microbes were then identified using the API-Coryne test (bioMerieux, France). An automatic method (Vitek 2, bioMerieux) and commercially available manual tests were used to assess drug resistance. Corynebacterium pseudodiptheriticum and Staphylococcus epidermidis were grown. Cipronex was included. Patient's condition improved. CT was performed (fig. 2). Also, treatment with silver nanoparticles and intestinal flora analysis were recommended.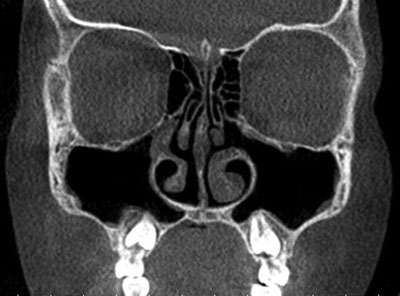 Fig. 2. Sinus CT after the procedure
Discussion
Diseases caused by Corynebacterium strains are a serious medical and veterinary problem. These are opportunistic microorganisms, which are aetiological factors of multiple human and animal diseases. They should never be underestimated as they may contribute to therapeutic failures, prolonged treatment time and increased costs (1).

Powyżej zamieściliśmy fragment artykułu, do którego możesz uzyskać pełny dostęp.
Płatny dostęp tylko do jednego, POWYŻSZEGO artykułu w Czytelni Medycznej

(uzyskany kod musi być wprowadzony na stronie artykułu, do którego został wykupiony)
---
Płatny dostęp do wszystkich zasobów Czytelni Medycznej