© Borgis - New Medicine 4/2003, s. 100-103
Radoslaw Owczuk, Magdalena A. Wujtewicz, Wioletta Sawicka, Maria Wujtewicz, Maria Szlyk-Augustyn, Anna Wadrzyk
Analysis of causes of Emergency Medical Service resuscitation teams being called to elderly patients
Department of Anaesthesia and Intensive Care,Medical University of Gdansk, Poland
Head: Maria Wujtewicz, MD, PhD
Summary
In this study we have analysed the causes of Emergency Medical Service resuscitation teams being called to persons aged over 70 years during the year of 2001 in the city of Gdańsk. A total of 2016 call constituted 18.22% of all prehospital emergency medical interventions during the period. More female (60.81%) than male patients required aid. Medical and neurological problems predominated among the causes of EMS calls. Chest pain was the call reason in 20.88% of patients, and dyspnoea and simple fainting in 16.17% and 15.53% of cases respectively. Unconsciousness was recorded in 14.88%, brain stroke in 4.56% of patients. The number of EMS visits to persons with injuries was much lower, and constituted only 4.38% of all calls. During the period 22 effective CPRs were provided and 135 deceases occurred before EMS arrival. In 88.6% of cases the cause of calling was consistent with the actual situation found at the site.
Constant medical progress results in the acceleration of population ageing. In the USA during a five-year period an increase in the number of admissions of elderly patients to emergency departments was observed (1). It is believed that in an emergency medical intervention in a person over 65 years old, probability of his/her admission to hospital is five times higher than in a younger persons; similarly, the chance of admission of an elderly patient to the intensive care department is five times greater (2). Similar problems are observed in Poland, but there is a lack of publications about the use of Emergency Medical Service (EMS) by elderly patients in our country.
MATERIAL AND METHODS
All Emergency Medical Service resuscitation team calls to persons over 70 years of age during 2001 in Gdańsk were subject to this analysis. Analysed data included: patient age, cause of the call, and consistency of the causes for calling and the actual findings at the site. In 2001, the emergency resuscitation service was supplied in Gdańsk and area by 5 teams. In the year, there were approx. 400,000 persons registered in the area covered by the Gdańsk EMS Station.
The fact of a patient&acutes admission was considered the measure of efficacy of cardiopulmonary resuscitation. Consistency of the cause for calling and the actual event was noted positive when the reason for calling was part of the clinical diagnosis, and patient&acutes state or symptoms might have changed before the arrival of the EMS team.
RESULTS
In 2001 the 5 teams at the EMS Station in Gdańsk supplied medical services in 31 930 cases, of which 11 063 interventions were effected by resuscitation teams. In 2016 cases services concerned persons over 70 years, which made up 18.22% of the resuscitation teams (R) interventions. Women constituted 60.81% of patients and men 39.19%.
The age of patients ranged from 70 to 100 years (mean age 77.3 years; SD 5.72). The percentages of respective age groups are presented in table 1.
Table 1. Characteristics of patients&acute age in the analysed group.
| | | | | | | | |
| --- | --- | --- | --- | --- | --- | --- | --- |
| Age group | 70-74 yrs | 75-79 yrs | 80-84 yrs | 85-89 yrs | 90-94 yrs | 95-99 yrs | 100 yrs |
| Number of patients (%) | 748 (37.1%) | 600 (29.8%) | 404 (20.0%) | 188 (9.3%) | 65 (3.2%) | 10 (0.5%) | 1 (0.05%) |
Distribution of the R teams&acute callings in subsequent months is shown in figure 1.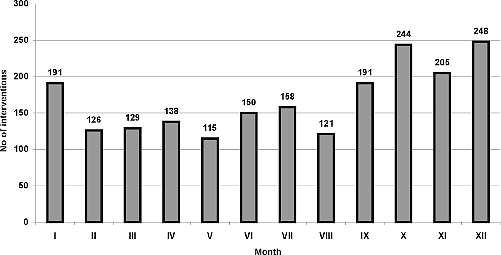 Fig 1. Number of calls for EMS by month.

Powyżej zamieściliśmy fragment artykułu, do którego możesz uzyskać pełny dostęp.
Mam kod dostępu
Aby uzyskać płatny dostęp do pełnej treści powyższego artykułu albo wszystkich artykułów (w zależności od wybranej opcji), należy wprowadzić kod.
Wprowadzając kod, akceptują Państwo treść Regulaminu oraz potwierdzają zapoznanie się z nim.
Aby kupić kod proszę skorzystać z jednej z poniższych opcji.
Opcja #1
19 zł
Wybieram
dostęp do tego artykułu
dostęp na 7 dni
uzyskany kod musi być wprowadzony na stronie artykułu, do którego został wykupiony
Opcja #2
49 zł
Wybieram
dostęp do tego i pozostałych ponad 7000 artykułów
dostęp na 30 dni
najpopularniejsza opcja
Opcja #3
119 zł
Wybieram
dostęp do tego i pozostałych ponad 7000 artykułów
dostęp na 90 dni
oszczędzasz 28 zł
Piśmiennictwo
1. Strange G.R., Chen E.H.: Use of emergency departments by elder patients: a five-year follow-up study. Acad. Emerg. Med. 1998; 5(12): 1157-1162. 2. Sanders A.B.: Care of the elderly in emergency departments: conclusion and recommendations. Ann. Emerg. Med. 1992; 21(7):830-834. 3. Witczak W. i wsp.: Stany zagrożenia życia w materiale Oddziału Pomocy Doraźnej ZOZ w Puławach. Zdr. Publ. 1994; 105(8): 276-279. 4. Ulatowska-Szostak E., Marcinkowski J.T.: Analiza wyjazdów pogotowia ratunkowego w mieście Poznaniu. Probl. Med. Społ. 1997; 32:385-390. 5. Clark M.J., Fitzgerald G.: Older people&acutes use of ambulance services: a population-based analysis. J. Accid. Emerg. Med. 1999; 16(2):108-111. 6. Ettinger W.H. et al.: Patterns of use of the emergency department by elderly patients. J. Gerontol. 1987; 42(6):638-642. 7. Singal B.M. et al.: Geriatric patient emergency visits. Part I: Comparison of visits by geriatric and younger patients. Ann. Emerg. Med. 1992; 21(7): 802-807. 8. Dickinson E.T. et al.: Geriatric use of emergency medical service. Ann. Emerg. Med. 1996; 27(2):199-203. 9. McConnel C.E., Wilson R.W.: The demand for prehospital emergency services in an ageing society. Soc. Scie. Med. 1998; 46(8):1027-1031. 10. Malik N.: Diagnosis and Management of Acute Coronary Syndromes, Geriatrics and Ageing 2001; 4(8):11-14. 11. Malkin L.: Diagnostic approaches to new onset respiratory symptoms in the elderly: dyspnoea and cough. Geriatrics and Aging 1999; 2(5):18-26. 12. Grisso J.A. et al.: Injuries in an elderly inner-city population. J. Am. Geriatr. Soc. 1990; 38(12):1326-1331.