© Borgis - New Medicine 4/2009, s. 100-101
*Małgorzata Dębska
A PHARYNGEAL TUMOUR IN A 13-DAY-OLD NEONATE – CASE REPORT
Department of Paediatric Otorhinolaryngology, Medical University of Warsaw, Poland
Head of Department: Prof. Mieczysław Chmielik, MD, PhD
Summary
A case of a pharyngeal tumour in a 13-day-old neonate was diagnosed. The asymptomatic tumour had been noticed by the parents in the oral cavity of their newborn child. The article describes the diagnostic and treatment of the lesion. Note that the patient was very young and the tumour was asymptomatic despite the lesion&acutes considerable size.
INTRODUCTION
Tumorous lesions of the pharynx in neonates are rare. New-born children usually present with teratoma of the pharynx, less frequently with papilloma, cysts, angioma or fibroma. Malignant tumours that occur in neonates are rhabdomyosarcoma. Due to their localisation, pharyngeal tumours can cause swallowing problems and respiratory failure. Diagnostics consists of: history, paediatric and laryngological physical examination, laboratory tests (alphaphetoprotein, LDH, ferritin, basic examination), imaging examination: pharynx and neck ultrasound, CT, MRI, chest X-ray and ultrasound of the abdominal cavity in order to rule out tumorous lesions in other organs. Pharyngeal tumours are treated surgically, the resection is either curative or performed to obtain a sample for histological examination (in case of maiming surgery). In case of some malignant lesions, in order to reduce the tumour burden and the scope of the surgical intervention, chemotherapy is administered before a surgical intervention.
CASE STUDY
A 13-day-old girl W.B. (patient history number: 09-556; 10 points in the Apgar score, third pregnancy and second delivery, born through cesarean section) was admitted to the Clinic of Paediatric Laryngology on April 24th, 2009 due to a tumorous lesion in the oral cavity (Fig. 1). The lesion had been discovered by the parents when the patient had spitted up after feeding. The neonate hadn&acutet had any problems with suckling and swallowing and it had gained weight.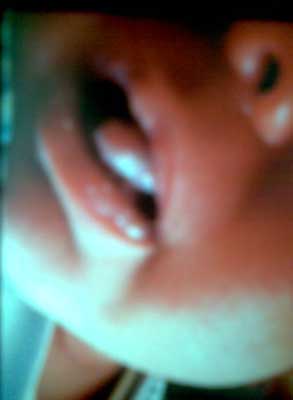 Fig. 1. The tumour in the oral cavity.

Powyżej zamieściliśmy fragment artykułu, do którego możesz uzyskać pełny dostęp.
Płatny dostęp tylko do jednego, POWYŻSZEGO artykułu w Czytelni Medycznej

(uzyskany kod musi być wprowadzony na stronie artykułu, do którego został wykupiony)
---
Płatny dostęp do wszystkich zasobów Czytelni Medycznej
Adres do korespondencji:
*Małgorzata Dębska
Klinika Otolaryngologii Dziecięcej WUM
00-576 Warszawa, ul. Marszałkowska 24
tel./fax: + 48 22 628 05 84
e-mail: laryngologia@litewska.edu.pl
New Medicine 4/2009
Strona internetowa
czasopisma New Medicine