© Borgis - New Medicine 4/2014, s. 118-121
Małgorzata Dębska, Elżbieta Niemczyk, *Lidia Zawadzka-Głos
Evaluation of drug-resistant Streptococcus pneumoniae in patients treated in Pediatric Hospital of Warsaw Medical University in 2012-2013
Department of Pediatric Otolaryngology, Medical University of Warsaw, Poland
Head of Department: Lidia Zawadzka-Głos, MD, PhD
Summary
Introduction. Streptococcus pneumoniae is the most common pathogen causing respiratory tract infections and invasive infections. In 2012 and 2013 we observed an increased incidence of drug-resistant SP in patients treated in Pediatric Hospital of Warsaw Medical University.
Aim. To evaluate the pneumococcal infections and the susceptibility to antibiotics. To examine the correlation between the incidence of pneumococcal infection and the use of pneumococcal vaccines.
Material and methods. The study included 38 children hospitalized due to pneumococcal infection in 2012 and 2013 in Pediatric Hospital of Warsaw Medical University. Basic information about microbiological examination, previous vaccine administration and hospitalization were gathered retrospectively and analyzed.
Results. Forty four specimens were obtained from 38 patients. Body culture sites were as follows: middle ear, nasal cavity sinuses, conjunctiva, pharynx. The drug-resistant strains were found in 12 cases. The patients suffered from meningitis, acute otitis media and rhinosinusitis. Isolates from 26 patients were described as susceptible. The infections developed as: acute otitis media, rhinosinusitis and pneumonia. Pneumococcal conjugate has been applied to 8 children before the hospitalization. Twenty two children had not been previously vaccinated. One out of 8 all vaccinated patients suffered from drug resistant pneumococcal infection. Children without active immunization developed drug resistant infection in 10 cases.
Conclusions. Pneumococcal infections occur less frequently in children with previous vaccine administration. Drug resistant isolates are more frequently responsible for invasive pneumococcal disease. Pediatric otolaryngologists recommend active immunization against Streptococcus pneumoniae.
INTRODUCTION
Streptococcus pneumoniae (SP) is a leading cause of lower and upper respiratory tract infections. (1, 2). Invasive pneumococcal disease (IPD) is defined as an infection in normally sterile body sites such as blood and cerebrospinal fluid (e.g. bacteremic pneumonia, bacteremia, meningitis) (3, 4). Individuals aged < 2 and > 65 years old are at particularly high risk for IPD (1). A heptavalent pneumococcal conjugate vaccine (PCV7) was licensed in the United States in 2000 and recommended for all children aged 2 to 23 months (3). It covered pneumococcal serotypes responsible for most antibiotic–resistant infections. In 2006 Kyawet al. (5) proved that introducing PCV7 into the routine childhood immunization program decreased the incidence of antibiotic-resistant IPD. An increasing in infections caused by serotypes not included in the vaccine was also observed. In 2009 higher-valent pneumococcal conjugate vaccines became available (6). They comprise additional 3 (PCV10) and 6 (PCV13) serotypes and are available in Poland since April 2009 and January 2010 (7, 8). In 2012 and 2013 we observed an increased incidence in drug-resistant SP in patients treated in Pediatric Hospital of Warsaw Medical University.
MATERIAL AND METHODS
A retrospective study was conducted with patients treated in Pediatric Hospital of Warsaw Medical University in 2012 and 2013. Several patients were selected based on SP isolates found in microbiological examination. Informations about the pneumococcal susceptibility to different classes of antibiotics were analyzed. Information about body culture site, department of hospitalization, gender, age of the child at the time of hospitalization, prior administration and type of pneumococcal vaccine, primary disease and comorbidities, concomitant infections, antimicrobial therapy were gathered and analyzed.
RESULTS
SP accounted for 1.21% (45/3723) of all isolates. These were obtained from 38 patients. One patient was hospitalized twice within 1 month due to pneumococcal infection. Both results were analyzed. In 4 cases samples were taken from two different body sites during one hospitalization. A body culture site less correlated to primary disease was excluded from analysis. Three patients were excluded due to incomplete data.
SP was found in 18 girls (47.37%) and 20 males (52.63%). These were children aged 3 weeks to 15 years with an average age of 44.1 months. Children younger than 2 years old constituted 44,74% of all hospitalized patients.
The samples were collected mainly from pediatric otolaryngology department. The group constituted 52,63% of hospitalized children due to pneumococcal infection (fig. 1). The most commonbody culture sites were as follows: ears (n = 16), and nose withparanasal sinuses (n = 11). They accounted for 38.1% and 26.19% of all analyzed samples (n = 42) (fig. 1).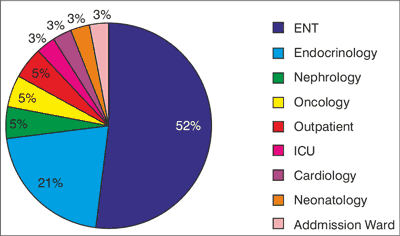 Fig. 1. Department of hospitalization of patients suffering from pneumococcal infections.
Susceptible SP were identified in 26 patients (68.42%). They caused mostly rhinosinusitis (RS) (n = 8) and acute otitis media (AOM) (n = 8). Two cases of AOM were complicated by acute mastoiditis (fig. 2).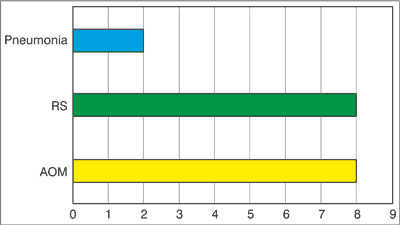 Fig. 2. The infections caused by susceptible strains.
RS – rhinosinusitis, AOM – acute otitis media
Antibiotic-resistant SP were found in 12 patients (31.58%) and caused mainly AOM (n = 9), including one case complicated by acute mastoiditis and meningitis (fig. 3).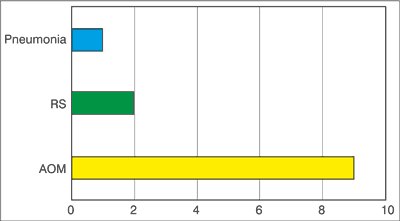 Fig. 3. The infections caused by resistant strains.
RS – rhinosinusitis, AOM – acute otitis media
Seven children suffered from systemic noninfectious diseases. These were: CHARGE syndrome, prune belly syndrome, immunodeficiency, pre-B cellacute lymphoblastic leukemia (ALL) and T cell ALL, hydronephrosis, aortic and mitral valve stenosis. One child died during hospitalization due to Escherichia coli septicemia.
Eight (21.05%) children received at least one dose of pneumococcal vaccine before the hospitalization. The PCV13 was administered to all of them. 22 (57.1%) children have not 0been previously vaccinated. In 8 cases (21.05%) the data about vaccination remained unknown. Microbiological examination found only one (12,5%) drug-resistant SP among children with previous PCV13 administration. 7 other cases (87.5%) revealed susceptible isolates. Drug-resistant SP were present in 12 (54.55%) children with no previous pneumoccocal vaccine administration. Other 10 unvaccinated patients (45.45%) had susceptible isolates in microbiological examination.

Powyżej zamieściliśmy fragment artykułu, do którego możesz uzyskać pełny dostęp.
Płatny dostęp tylko do jednego, POWYŻSZEGO artykułu w Czytelni Medycznej

(uzyskany kod musi być wprowadzony na stronie artykułu, do którego został wykupiony)
---
Płatny dostęp do wszystkich zasobów Czytelni Medycznej