© Borgis - New Medicine 2/2002, s. 80-82
P. Beighton1, K. Kozlowski2
A new, distinctive from of spondylo-epi-metaphyseal dysplasia
1Department of Human Genetics, Cape Town, S. Africa
2Department of Medical Imaging, New Children&acutes Hospital, Sydney, Australia
Summary
Spondylo-epi-metaphyseal dysplasias are a group of complex disorders, most of which defy classification. We report a patient with distinctive radiographic features who presents a previously undescribed form of spondylo-epi-metaphyseal dysplasia.
INTRODUCTION
The spondylo-epi-metaphyseal dysplasias (SEMD) comprise an extensive group of different disorders which share the common characteristics of spinal, metaphyseal and epiphyseal involvement (1). A few SEMDs, such as metatropic dysplasia, diastrophic dysplasia or pseudoachondroplasia have well-recognised phenotypic and radiographic diagnostic features. The majority of affected patients, however, defy classification because of the rarity of these conditions, non-specific phenotypes, poor radiographic documentation, normal biochemical investigations and uncharacteristic histology. Detailed radiographic description is the first step in the classification of this complex group of conditions. In order to exemplify this situation, we report a boy with an unclassifiable SEMD and describe our approach to differential diagnosis.
CASE REPORT
MA, a male was born to young, healthy, unrelated parents after an uneventful pregnancy and breech delivery. At birth, he was noted to have short limbs, CTEV and a hydrocele. The parents and two elder siblings were healthy and had normal stature; the family history was unremarkable.
When examined at the age of 3 years ha was found to be a healthy child with a normal intellect. Short stature with proximal shortening of the limbs and marked lumbar hyperlordosis were evident. His elbows lacked 10 degrees of full extension and he wore surgical boots and calipers for a residual CTEV. Apart from 5th finger clinodactyly, his hands were normal. The face was normal there were no systemic ramifications. Routine laboratory investigations including cytogenetic studies and urinary screening for mucopolysaccharides yielded normal results.
Radiographic at the age of 3 1/2 months revealed distinctive skeletal changes, notably delayed bone age and metaphyses of the tubular bones which were cupped, with pointed edges. The distal ends of the femora and the acetabulae had a trident configuration (Fig 1A-C). A lateral view of the spine obtained at the age of 15 months showed hypoplasia of the 12th thoracic vertebra (Th12), with some posterior displacement of the vertebral body. The other vertebral bodies were slightly oval in shape (Fig 2). The skull was normal.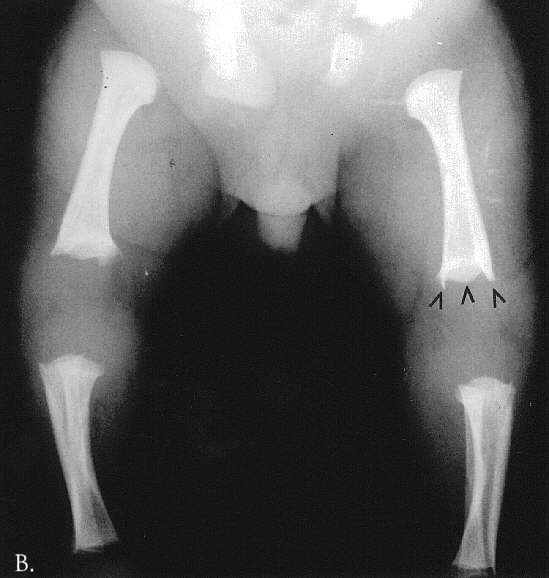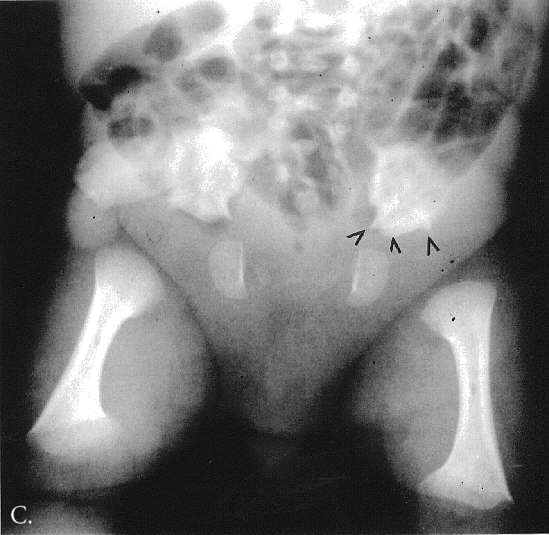 Fig. 1A-C. MA at the age of 3,5 months. A. Hand. Cupped metaphyses with pointed edges, shortened 1st, 2nd and 5th fingers. Hypoplastic/dysplastic middle and distal phalanges and 1st metacarpal. Distal shortening of the ulna. B. Lower extremities. Delayed bone age – "empty" knees. Trident configuration of the distal femora (arrowed). C. Pelvis. Club-shaped proximal femoral metaphyses. Tri-radiate acetabulum (arrowed). Hypoplastic pubic bones.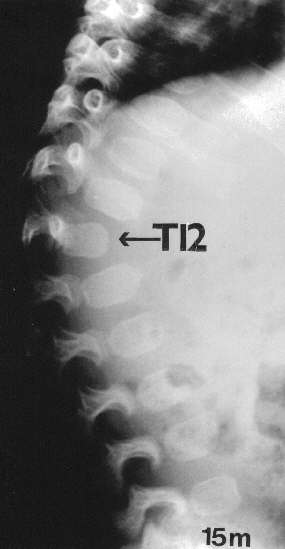 Fig. 2. MA at the age of 15 months. Kyphosis, hypoplasia of Th12 and oval vertebral bodies.

Powyżej zamieściliśmy fragment artykułu, do którego możesz uzyskać pełny dostęp.
Mam kod dostępu
Aby uzyskać płatny dostęp do pełnej treści powyższego artykułu albo wszystkich artykułów (w zależności od wybranej opcji), należy wprowadzić kod.
Wprowadzając kod, akceptują Państwo treść Regulaminu oraz potwierdzają zapoznanie się z nim.
Aby kupić kod proszę skorzystać z jednej z poniższych opcji.
Opcja #1
19 zł
Wybieram
dostęp do tego artykułu
dostęp na 7 dni
uzyskany kod musi być wprowadzony na stronie artykułu, do którego został wykupiony
Opcja #2
49 zł
Wybieram
dostęp do tego i pozostałych ponad 7000 artykułów
dostęp na 30 dni
najpopularniejsza opcja
Opcja #3
119 zł
Wybieram
dostęp do tego i pozostałych ponad 7000 artykułów
dostęp na 90 dni
oszczędzasz 28 zł
Piśmiennictwo
1. Kozlowski K., Beighton P.: Gamut Index of Skeletal Dysplasias. 3rg Ed 2001, Springer Verlag, LondonBerlin. 2. Maroteaux P.: Les maladies osseuses de l&acuteenfant. 3-e Ed 1995, Flammarion Paris. 3. Taybi H., Lachman R.S.: Radiology of syndromes, metabolic disorders, and skeletal dysplasias. 4th Ed 1996, Mosby St Louis. 4. Hernandez Z. et al.: Autosomal recessive spondylo-epi-metaphyseal dysplasia (Irapa type) in a mexican family: Delineation of the syndrome. Am. J. Med. Genet. 1980, 5:179-188. 5. Figuera L.E. et al.: Spondyloepimetaphyseal dysplasia (SEMD). Shohat Type. Am. J. Med. Genet. 1994, 51:213-215.