© Borgis - New Medicine 2/2002, s. 67-70
Jolanta Chmielik, Mieczysław Chmielik, Beata Zając, Anna Gabryszewska, Waldemar Szapłyko
Vertigo and dizziness in children – diagnostic problems
Department of Neurology, Children&acutes Memorial Health Institute, Warsaw, Poland
Head: prof. Sergiusz Jóźwiak M.D.
ENT Paediatric Clinic, Medical University of Warsaw, Poland
Head: prof. Mieczysław Chmielik M.D.
Summary
The purpose of the study was to review clinical presentation, diagnostic methods, and conditions causing vertigo and dizziness in children. The authors report a retrospective review of 70 children diagnosed in the ENT Department or Outpatient Clinic in the Department of Paediatric Neurology. The differential diagnosis of dizziness and vertigo in children requires a multidisciplinary approach. Close co-operation between the otolaryngologist, paediatrician, neurologist and ophtalmologist allows the best chance of accurate diagnosis. From an analysis of the results, a diagnostic approach to the dizzy child is suggested, and the most frequent conditions causing vertigo in children are discussed.
INTRODUCTION
Vertigo and dizziness as major complaints in childhood are probably present more often than formerly thought (6, 7).
Vertigo is a disorder of space sensitivity, characterized by an illusory and unpleasant sensation of movement of the surroundings or self (5). Dizziness is a disturbed sense of relationship to space, or unsteadiness with a feeling of movement (4).
We should remember that "vertigo" is rather an abstract concept for a small child, who is unable to distinguish between vertigo and, for example, a feeling of fear. A child under 7 years of age suffering vertigo very often reports a headache (1, 9).
Vertigo is a complaint which adult patients report to doctors. However, the very young child cannot make such a report, and information therefore comes from the parents&acute observation of their child&acutes behaviour. This relates to locomotion and to manual dexterity, for example (6).
Vertigo and dizziness may take on very different shapes and aspects, so that it is often difficult to identify its etiopathogenesis. A careful anamnesis always has an essential role in the diagnosis of vertigo, together with evaluation of clinical signs and diagnostic tests (3-6).
OBJECTIVE
The purpose of the study was to review the clinical pesentation, diagnostic methods and conditions causing vertigo and dizziness in children.
MATERIAL AND METHODS
In this paper we have analyzed two groups of patients referred to specialists (usually by paediatric doctors) with a diagnosis of vertigo or dizziness.
A – 21 children (aged 6-14 yrs) with vertigo or dizziness as the presenting symptom were diagnosed in the ENT Department during a 5-year period from 1995 to 2000;
B – At the same time (1995-2000) another 49 children (aged 2-14 yrs) suffering from vertigo were treated at the Outpatient Clinic in the Department of Paediatric Neurology.
Historical information provides the most important data in the diagnosis of dizzy patients. Important facts can be obtained not only from parents but (more frequently than expected) from the child. The age of the patient determines the quantity and quality of information. The following points are most important (3-5):
– perinatal problems,
– neurological and muscular problems,
– history of medication,
– prior otological disease and hearing loss,
– history of head trauma,
– description of the attacks; onset, duration, and frequency,
– association of attacks with nausea, vomiting, loss of consciousness,
– tendency to veer in a particular direction,
– is the child asymptomatic between attacks?
– associated headaches or visual, motor, or speech problems,
– family history of migraine, epilepsy, hearing loss, or vertigo.
Evaluation of a dizzy child entails close co-operation between the otolaryngologist, paediatrician, neurologist and ophtalmologist (3, 5). A comprehensive otological examination in conjunction with a general physical evaluation and complete neurological examination is essential (8). Many clues can be obtained by observing the child before and during the examination. Otoscopy will identify infections or inflammatory processes of the ear and mastoid structures (6). Use of the pneumatic otoscope may elicit a positive fistula test. Careful evaluation of the cranial nerves, cerebellar testing, a Romberg test, an augmented Romberg test, and gait testing must be carried out (4). Eye movements and nystagmus should be observed normally and by using Frenzel lenses (5). A general physical examination should cover cardiovascular and respiratory symptoms, because associated symptoms may be misinterpreted as dizziness. Audiological and tympanometric evaluation, and bithermal calorific testing is essential in all patients. In some cases electronystagmography, electroencephalography, or computer tomography of the brain or temporal bone are necessary to obtain a diagnosis. Investigations should be selected in a logical manner, the clinician&acutes own judgement determining which child requires full vestibular assessment, CT scan, or EEG, to make or exclude a particular diagnosis (3).
RESULTS – GROUP A
Twenty-one patients, (11 females and 10 males), complaining mainly of vertigo or dizziness were studied retrospectively. The minimum age of patients was 6 years and the maximum 14 years. Along with vertigo or dizziness, 9 children had associated headaches, 11 had nausea and vomiting, and 3 patients had only nausea. Two patients with headaches typical of migraine also had photopsia and scotoma during attacks.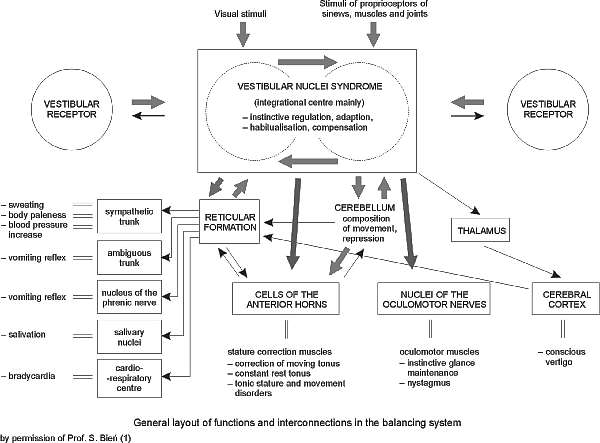 Six children, before the onset of vertigo or dizziness, had head trauma, and 4 had suffered from a mumps infection. Abnormal findings on physical examinations were identified in 2 patients, being nystagmus and a positive Romberg test. In 4 children only nystagmus was observed, and 1 child had a positive Romberg test. Otoscopy revealed 3 patients with secretory otitis media. A bithermal calorific test was done in all patients, 7 cases revealing a unilateral weakness of response. Positional nystagmus or vertigo was observed in 3 cases.
Of 7 abnormal audiograms, we identified 3 showing bilateral conductive hearing loss, and 2 bilateral and 1 unilateral total deafness. Abnormal tympanograms (type B) consistent with otitis media were identified in 3 patients.
CT scans were performed in 14 cases. In 2 patients this revealed an abnormality; 1 after trauma and 1 due to perinatal anoxia. An abnormal EEG was noted in 4 patients.
Vertigo in children can be caused by many disorders. In our review peripheral causes were more common than central causes.
In our material trauma appears as the main cause of vertigo or dizziness in 3 patients. Secretory otitis media was identified in 3 children. Two patients were considered to have vertigo and unilateral sensorineural hearing loss due to mumps infection.
In 1 child we diagnosed a unilateral peripheral weakness of vestibular function after infection of the alimentary tract, and 1 child had a unilateral weakness of unknown aetiology.
One patient had unilateral weakness and bilateral sensorineural hearing loss after gentamycin intake. In one case we diagnosed labyrinthitis during acute otitis media.
A further patient was considered to have dizziness of central origin after bacterial meningitis, and another due to perinatal anoxia.
In 2 children dizziness occured as a migraine syndrome.

Powyżej zamieściliśmy fragment artykułu, do którego możesz uzyskać pełny dostęp.
Płatny dostęp tylko do jednego, POWYŻSZEGO artykułu w Czytelni Medycznej

(uzyskany kod musi być wprowadzony na stronie artykułu, do którego został wykupiony)
---
Płatny dostęp do wszystkich zasobów Czytelni Medycznej
Piśmiennictwo
1. Andrzejewski J.: Zawroty głowy u dzieci. Biblioteczka Prospera Meniere&acutea, 1998, vol. 1, 3:13-22. 2. Bień S.: Zjawisko kompensacji przedsionkowej – klucz do racjonalnej terapii zaburzeń równowagi. Terapia, maj 1999, 6-9. 3. Blayney A.W., Colman B.H.: Dizziness in childhood. Clin. Otolaryngol. 1984, 9:77-85. 4. Bower Ch.M., Cotton R.T.: The Spectrum of Vertigo in Children. Arch. Otolaryngol. Head Neck Surg. 1995, 121:911-915. 5. D&acuteAgostino R. et al.: Otoneurologic evaluation of child vertigo. Int. J. Ped. Otorhinolar., 1997, 40:133-139. 6. Golz A. et al.: Evaluation of balance disturbances in children with middle ear effusion. Int. J. Ped. Otorhinolar. 1998, 43:21-26. 7. Golz A. et al.: Effects of middle ear effusion on the vestibular system in children. Otolaryngol. Head Neck Surg., 1998, 119:659-699. 8. Janczewski G.: Diagnostyka zawrotów głowy. Terapia, maj 1999, 3-5. 9. Janczewski G.: Zawroty głowy – kompendium lekarza praktyka. Solvay Warszawa 2000, 78. 10. Russell G., Abu-Arafeh I.: Paroxysmal vertigo in children an epidemiological study. Int. J. Ped. Otorhinolar. 1999, 49 suppl. 1, 105-107. 11. Wendorff J.: Zaburzenia przedsionkowe u dzieci (bez objawów usznych). Biblioteczka Prospera Meniere&acutea, 1998, vol. 1, 3:23-32.