Małgorzata Badełek-Izdebska, Małgorzata Dębska, *Lidia Zawadzka-Głos
Lingual tonsil hypertrophy as a cause of obstructive sleep apnea syndrome – case report
Department of Pediatric Otolaryngology, Medical University of Warsaw, Poland
Head of Department: Lidia Zawadzka-Głos, MD, PhD
Summary
The hypertrophy of the lingual tonsil (LTH) could be the cause of obstructive sleep apnea in children. This disorder may cause obstructive sleep apnea (OSA) and also may lead to a life-threatening obstruction of the upper airway. Lingual tonsil hypertrophy is more frequently described in adults. LTH often occurs in children with prior palatine tonsillectomies or adenoidectomies. Diagnosis of lingual tonsil hypertrophy in patients with OSA requires a careful ENT examination by advanced technologic methods. The sleep apnea is successfully treated by lingual tonsillectomy, with or without tracheotomy. Tracheostomy allows the obstructive airway with postoperative oedema to be bypassed.
In this study we present the case of a child with persistent syndroms of a sleep apnea. Patient underwent six adenotonsillectomies in the past. ENT examination and CT scans showed that symptoms of OSA were caused by lingual tonsil hypertrophy. Patient was treated with a lingual tonsillectomy with tracheotomy and it was an effective treatment for this case.
INTRODUCTION
The lingual tonsil, together with the palatine and pharyngeal (adenoids) tonsils, forms a Waldeyer's ring. The lingual tonsil is a small lymphatic tissue located at the back of the base of the tongue. It's a team cells protecting input to the respiratory and digestive systems. Being a lymphatic tissue, lingual tonsil protects against infection. The most common diseases of the lingual tonsil are tonsillitis, lingual hypertrophy and lingual tonsil cancer. Sometime the lingual tonsil become so enlarged that it obstruct the respiratory passage, leading to breathing difficulty. These hypertrophied tonsil is removed through tonsillectomy.
CASE REPORT
A 9-years-old boy was admitted to our hospital due to snoring, sleep apnea episodes and problems with swallowing. Patient underwent six operations for tonsils: in October 2005 – adenotonsillotomy and tympanotomy, in April 2006 – re-adenotonsillotomy, in May 2007 – re-adenotonsillotomy and tympanotomy, in December 2007 re-tonsillotomy and tympanotomy right ear, in February 2010 – re-adenotonsillotomy and ventilation tube of right ear, in February 2012 – re-adenotomy and lingual tonsillectomy by coblation.
On admission to our Department measured blood oxygenation was 96 to 98%. The patient in a sitting position demonstrated the lingual tonsil hypertrophy with the aid of a laryngeal mirror. A computed tomography scanning of a child's neck revealed the airway with irregular tissular mass on the base of tongue and in region of epiglottis (fig. 1, 2).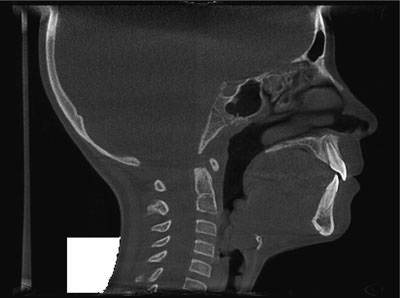 Fig. 1. CT of the enlarged lingual tonsil.
Fig. 2. CT of the enlarged lingual tonsil.
The size of the tumor was 24 mm x 20 mm. Adenoid and both palatine tonsils were non-enlarged and there were no bony deformations in this region.

Powyżej zamieściliśmy fragment artykułu, do którego możesz uzyskać pełny dostęp.
Płatny dostęp tylko do jednego, POWYŻSZEGO artykułu w Czytelni Medycznej

(uzyskany kod musi być wprowadzony na stronie artykułu, do którego został wykupiony)
---
Płatny dostęp do wszystkich zasobów Czytelni Medycznej
otrzymano: 2015-10-10
zaakceptowano do druku: 2015-11-23
Adres do korespondencji:
*Lidia Zawadzka-Głos
Department of Pediatric Otolaryngology Medical University of Warsaw
24 Marszałkowska Str., 00-576 Warsaw, Poland
tel./fax: +48 (22) 628-05-84
e-mail: laryngologia@litewska.edu.pl
New Medicine 4/2015
Strona internetowa
czasopisma New Medicine