© Borgis - Postępy Nauk Medycznych 11/2013, s. 826-832
*Jarosław Kozakowski
Diagnostyka obrazowa w zaburzeniach metabolicznych. Od metod tradycyjnych do nowoczesnych
Diagnostic imaging in metabolic disorders. From traditional to modern methods
Department of Endocrinology, Medical Center of Postgraduate Education, Bielański Hospital, Warszawa
Head of Department: prof. Wojciech Zgliczynski, MD, PhD
Streszczenie
Częstość występowania zaburzeń metabolicznych, zwłaszcza otyłości i powiązanych z nią zaburzeń wchodzących w skład zespołu metabolicznego, wykazuje stałą tendencję wzrostową i obecnie dotyka już milionów ludzi na świecie. Stan taki wymaga posiadania odpowiednio precyzyjnych i czułych narzędzi do rozpoznawania i śledzenia naturalnej historii zaburzeń metabolicznych. W artykule krótko przedstawione są tradycyjne i nowoczesne metody obrazowania procesów metabolicznych i ich objawów w warunkach fizjologicznych i patologicznych. Techniki takie jak ultrasonografia, radiologia, tomografia komputerowa, pozytronowa tomografia emisyjna, tomografia emisyjna pojedynczych protonów, rezonans magnetyczny wraz z ich modyfikacjami znajdują obecnie zastosowanie zarówno w badaniach eksperymentalnych, jak i w coraz większym zakresie w praktyce klinicznej. Pozwalają one nie tylko np. na badanie składu ciała, w tym na ocenę tłuszczu zlokalizowanego ektopowo, ale także na wgląd w czynność komórek β trzustki, obrazowanie serca i naczyń, rozprzestrzenienie blaszek miażdżycowych, dokładną ocenę ich budowy, a nawet określenie ryzyka pęknięcia. Wiele pytań dotyczących etiologii i przebiegu zaburzeń metabolicznych wciąż pozostaje bez odpowiedzi. Nowe technologie mogą przyczynić się do lepszego poznania natury tych zaburzeń i związanych z nimi zagrożeń, w szczególności dotyczących układu sercowo-naczyniowego, którego choroby są obecnie główną przyczyną zgonów.
Summary
The prevalence of metabolic disorders, first of all of obesity with its combination of comorbidities consisting metabolic syndrome is increasing at a very high rate, affecting millions individuals worldwide. Cardiovascular complications associated with metabolic disorders contribute to high rates of morbidity and mortality. For these reasons there is a strong need for precise and sensitive tools for early diagnose and control a natural course of metabolic disturbances. In this article traditional and modern methods of visualizing metabolic processes with their signs and symptoms in physiologic and pathologic conditions are briefly discussed. Ultrasonography, radiology, computed tomography, positron emission tomography, single-photon emission computed tomography, magnetic resonance imaging, and other techniques with their modalities are used in experimental medicine and, in large extend in clinical practice. With these methods not only body composition or ectopic fat accumulation may be recognize. Also β-cell function, vessel reconstruction and visualization, cardiac function, atherosclerotic plaques distribution, their structure and even estimation of risk of rupture can be made. Many fundamental questions regarding the etiology and natural course of the metabolic disorders are still unanswered. New technologies may be helpful for better understanding of their nature and impact on cardiovascular diseases – currently the greatest cause of mortality.
For ages, physicians have been strived to observe structures and functions of the human body. The great discoveries: of X-rays (in 1895) or ultrasounds (first technological application in 1917) have made possible to use these phenomena in medicine. At present, modern diagnostic departments use ultrasonography (US), radiology, computed tomography (CT), positron emission tomography (PET), single-photon emission computed tomography (SPECT), magnetic resonance imaging (MRI), and other techniques for the diagnosis and control of therapy of a range of diseases. In numerous biomedical research centers efforts are made in attempt to look inside the living cells and to observe life at its molecular level. So called molecular imaging is the non-invasive technique to visualize cellular processes at a molecular or genetic level. It includes the imaging of endogenous molecules, use of activable agents that sense specific cellular processes, use of labeled particles to follow particular metabolic pathways and exploit of genetic engineering to express specific protein products.
Naturally, these techniques lend themselves to all medical fields. However, given that metabolic disorders has emerged as a growing public health problem worldwide that reached epidemic proportion use of diagnostic imaging in patients with suspected or establish metabolic problems seems to be of crucial significance. Metabolism is the complex set of chemical reactions that organism uses to maintain life, including energy production and utilization. Food, made up of proteins, carbohydrates, and fats is a fuel, that is used right away, or is transferred into energy stored in body tissues. This energy is afterwards utilize for everyday activity. A metabolic disorder occurs when abnormal chemical reactions disrupt this process.
Starting point to look into metabolic disorders may be the metabolic syndrome (MS), for the first time described by Reaven in 1993 (1). Now function different definitions of this syndrome, but according to all of them MS integrates a group of abnormalities that enhance the risk of cardiovascular diseases. Central obesity, hyperinsulinemia, dyslipidemia and hypertension are regarded as an elements of the metabolic syndrome (2).
The main problem of MS is obesity. There are various methods for measurement of obesity, of which body mass index (BMI) and waist-to-hip ratio (WHR) are probably most popular. However, also some techniques to visualize body fat were developed. One of them is dual-energy X-ray absorptiometry (DEXA). It is a valuable method, that allows to measure simply and accurately both total and regional fat with marginal exposure to radiation. In order to perform measurement region of interest (ROI) program according to specific computer software related to device (densitometer) should be used (3). In author's clinic abdominal fat is estimated in region between the upper part of the pelvis with the upper margin 96 mm superior to the lower part of this region. The lateral part of this region is defined by the lateral part of the thorax. The upper part of the gynoid fat region is defined by the superior part of trochanter major, with the lower margin 96 mm inferior to the upper part of the trochanter major. The lateral part of this region is defined by the subcutaneous tissue on the hip, which can be visualized using the Image Values option (fig. 1). There are also other techniques that allow to measure of adiposity including computed tomography, total body water or total body potassium estimations, but they have important limitations: exposure to ionizing radiations, relatively high cost or methodological complexity.
Fig. 1. Example of the regions of interest (ROI) delimiting abdominal (A) and gynoid (B) fat in one of woman examined in author's clinic.
The phenomenon related directly to general obesity is ectopic lipid accumulation, i.e. in organs other than white adipose tissue, such as liver, muscles or heart. At present, magnetic resonance (MRI) is thought to be the most suitable method to visualize lipids content in peripheral tissues. In this technique, aided with 1-diamentinal magnetic resonance spectroscopy (MRS) measurement of total body fat mass with subsequent three-dimensional reconstruction and quantification of various fat depots is performed. Still present limitations of this method result from difficulties in precise determining the extend of saturated and unsaturated lipids within a tissue compartment, what is very important for cardiovascular risk prediction. To overcome these limitations use of spatially resolved MRS techniques were recently proposed (4-6). MRS is an analytical technique complement the MRI in the characterization of tissues. MRI uses the information to create 2-dimensional images of the structure, while MRS uses proton signals to determine the relative concentrations of target metabolites (7).
Another, very important components of metabolic syndrome, associated with obesity, especially in its abdominal form is insulin resistance with subsequent hyperinsulinemia. Traditionally, in every-day clinical practice insulin levels can be measured by radioimmunoassay (RIA) or enzyme-linked immunosorbent assay (ELISA). Insulin resistance is usually estimated as the result of various formulas of insulin and glucose calculations (e.g. HOMA index). Glucose metabolic clamp is still regarded as the gold standard for insulin sensitivity measurement. However, modern diagnostic imaging currently makes possible to visualize process of insulin secretion from pancreatic β-cells. It was demonstrated in rodents, that optical sensor of exocytosis can be implemented into animal β-cell. Then, insulin granulate exocytosis now can be observed intravital in fluorescent microscopic imaging (fig. 2) (8). Other method, namely surface-enhanced Raman spectroscopic (SERS) was recently developed to identify and visualize glucose and insulin molecules. Briefly, SERS tag (organic molecule immobilized on metallic nanoparticle) serves to label and track an analyte such as insulin or glucose (fig. 3) (9). This method is characterize by lack of toxicity, so theoretically the whole SERS active substrate could be implanted in living organism to obtain quantitative sensing of detected substance upon laser excitation (11). The promise of SERS lies on the detection of glucose, insulin or other protein hormones using SERS-active nanoparticles attached to a fibre optic sensor. It is believed, that the fibre can be readily configured for in vivo applications to allow studies in living animals in the near future (12).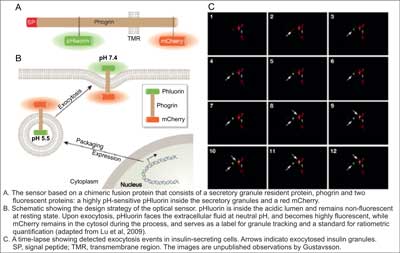 Fig. 2. An optical sensor for visualizing insulin granulate exocytosis (10).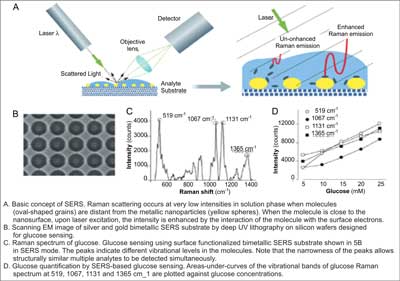 Fig. 3. Basic concept and applications of surface-enhanced Raman spectroscopy (10).
Other important process contributing to impaired insulin secretion and in consequence to diabetes mellitus development is reduction in β-cell mass. Hence, it is worthy to quantify β-cell mass in vivo and to correlate it with glucose homeostasis in the course of diabetes development. Also evaluating of potential of drugs in preserving β-cell mass and function requires sensitive method to imaging of pancreatic cell mass. Unfortunately, by now very limited success in this filed has been achieved using MRI method in experiments in rodents (13). This diagnostic failure is mainly due to lack of sufficient difference in proton density between β-cells and surrounding tissue. Owing to that fact new approaches to visualize and quantificate of β-cells mass in vivo are proposed. One of them is genetic introduction of complementary DNA encoding proteins that bind to MRI-, PET- or SPECT-compatible probes or may together with iron form particles detectable in magnetic resonance (14). This method yet cannot be used in clinical practice but in experimental conditions provide models to evaluate compounds for their pleiotropic properties in relation to β-cells.
Currently, there are techniques, that allow visualization of pancreatic blood flow and vascularization. Data obtained with these methods may be useful for estimation of isles cells function during disease or after transplantation. Method that allows observation of blood flow in pancreas is dynamic contrast enhanced MRI with use of Gadolinium containing agents (15). After i.v. injection of contrast, area under curve of the contrast agent kinetics is analyze.
Not only blood flow, but also glucose, glycogen and their derivates can be detected in pancreas and other tissues by MRI. In this case specific paramagnetic lanthanide complex, which generate a chemical exchange saturation transfer (CEST) effect should be used (16). In fact, at present this technique is suitable only for measurements ex vivo, because of strong magnetic field heterogeneity while examinations (17). Nowadays, efforts are made on further improvement of these methods in order to make possible to measure not only the ensemble of all estimated parameters but also their individual components. For example, one of these new methods relay on use of frequency-shifting contrast agents to change the resonance frequency of the water instead of changing the T1 or T2 relaxation times (18).

Powyżej zamieściliśmy fragment artykułu, do którego możesz uzyskać pełny dostęp.
Płatny dostęp tylko do jednego, POWYŻSZEGO artykułu w Czytelni Medycznej

(uzyskany kod musi być wprowadzony na stronie artykułu, do którego został wykupiony)
---
Płatny dostęp do wszystkich zasobów Czytelni Medycznej